Power Station
»

Nitecore

»

Nitecore NES1200 Portable Outdoor Power Station

»

(new)
Nitecore NES1200 Portable Outdoor Power Station


The Nes1200 is an reliable Mobile power station and a leading outdoor expert. It's compact and powerful. The power station has various outputs available, multiple charging methods and the ergonomic design offers one hand carry with a comfortable grip. With the backlit Realtime LCD display it is operable in the dark or at night.
Similar to the Standard AC electricity, the pure sine wave is unharmful and universally friendly to various household appliances wiht smooth and continuous wave form, instead of a sudden and choppy output.
The BMS (Battery Management System) is designed to dynamically manage and monitor each cell 100 times per second so it can maintains the best performance and prevent overcharge or over-discharge of the batteries to prolong theirs lifespan.
The Nes1200 has 4 pieces of anti-shock rubber on the bottom and can serve as a cushion to protect the cellen against a fall or an impact during transport.
Characteristics
Cell: 18650 Li-ion Batteries

Capacity: 1252.8Wh (21.6V, 58Ah) (348000mAh)

DC Input: 12V-36V, up to 10A (180W max)

USB-C Input: 5V⎓3A / 9V⎓3A / 12V⎓3A / 15V⎓3A / 20V⎓5A (100W max per port)

AC Output:

220V Version: 220V~6A 50Hz, Pure Sine Wave, 1200W, 2200W surge

110V Version: 110V~11A 60Hz, Pure Sine Wave, 1200W, 2200W surge

Cig Lighter Output: 12V⎓10A (120W max)

USB-A Output: 5V⎓3A / 9V⎓2A / 12V⎓2A / 20V⎓1.5A (30W max per port)

USB-C Output: 5V⎓3A / 9V⎓3A / 12V⎓3A / 15V⎓3A / 20V⎓5A (100W max per port)

Operating Temperature: -10~40°C (14~104°F)
In the box
Nes1200

Wall charger

Car charger

Manual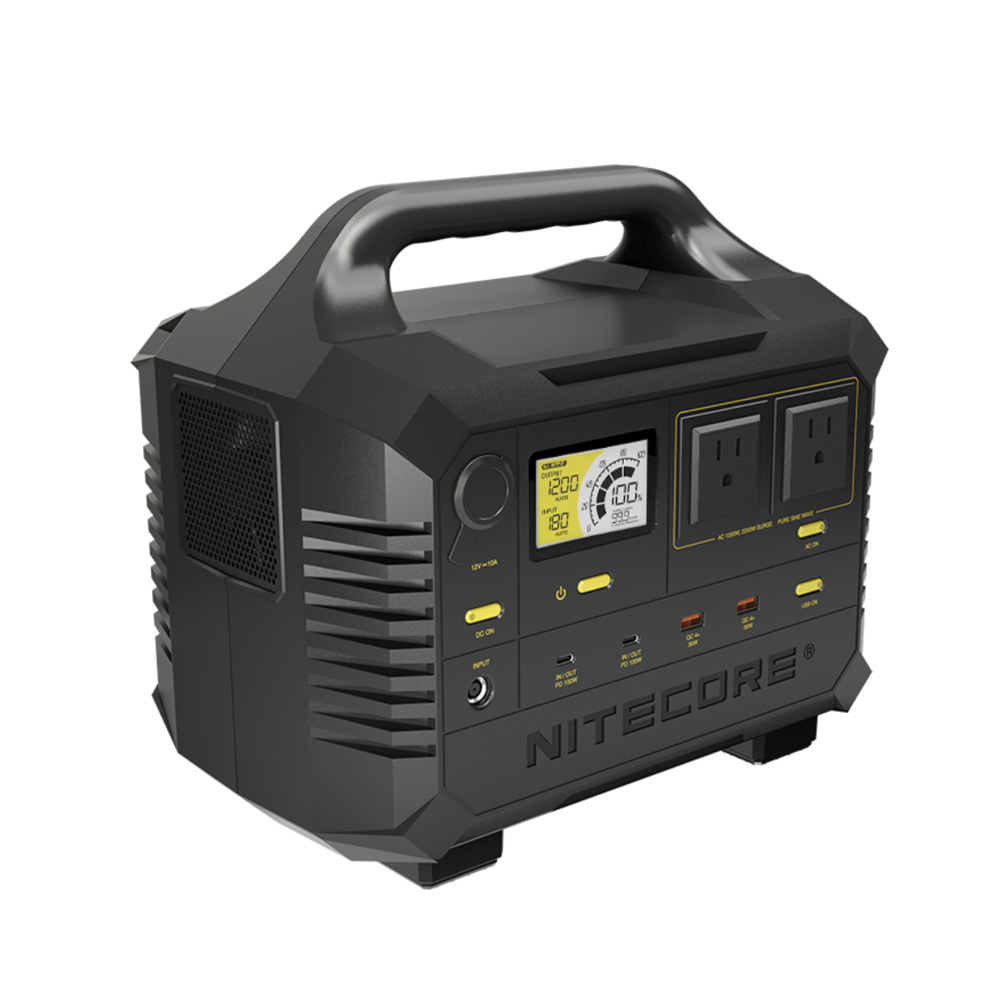 Цвет: black
Ёмкость (мА): 348000
Производитель: Nitecore
Kross: Nitecore NES1200 Portable Outdoor Power Station
Гарантия: 24
Для автомобиля: yes
Зарядное устройство: yes
для USB-C: yes
для USB: yes
iSMART: yes
Для Сматфонов: yes
Батарейки / Питание: yes