Mikrofons
»

SARAMONIC

»

Saramonic sound card SR-EA5 – 3x mini Jack / USB-C/A

»

(new)
The Saramonic SR-EA5 – 3x mini Jack / USB-C/A sound card is a small device that will allow you to extend your work with devices such as computers, smartphones, tablets or gaming consoles. You'll connect it to a USB-A or USB-C port, giving you access to 3 3.5mm Mini Jack sockets. The first will allow you to use headphones, the second for a microphone (TRS) and the third for a headset with microphone (TRRS). Ergonomic knobs will provide convenient volume control and noise reduction adjustment. The device does not require the installation of additional drivers.

Main product features
lightweight and ultra-mobile sound card

widespread compatibility with devices equipped with USB-A and USB-C ports

converter from USB-A to USB-C port included

average sound quality when listening to music, watching movies, chatting or playing games

adjustable volume control from 0 to 20 dB

adjustable noise reduction from 0 to 45 dB

compatibility with smartphones, tablets, computers, games consoles etc.

"Plug and play" – once connected, it is immediately ready for use

no installation of drivers or additional software required

enables simultaneous connection of headphones, headphones with microphone and microphone

a "mute" button to mute the sound with one click
More options
Does your computer only have one headphone jack or no headphone jack at all? Or do you want to expand your audio recording capabilities with your smartphone? The Saramonic SR-EA5 USB-A and USB-C compatible sound card is the device you've been looking for! It features a headphone socket (3.5 mm mini Jack) and a TRS microphone socket (3.5 mini Jack). A third port (TRS / TRRS) will allow you to connect a second pair of headphones or a headset with microphone.
Loudness control
By choosing the Saramonic SR-EA5 sound card, you gain precise volume control. A user-friendly knob allows you to adjust it from 0 to 20 dB. There is also an illuminated "mute" button on the housing of the unit. One click is enough to mute the microphone during videoconferences or calls.
Noise reduction
The Saramonic SR-EA5 sound card will allow you to enjoy even better sound quality when chatting on Skype or Zoom, videoconferencing or when communicating with other players during online games. A knob to adjust the noise from 0 to 45 dB will ensure optimal sound control also when recording vlogs or podcasts.
Wide compatibility
The cable with which you connect the Saramonic SR-EA5 sound card to the device of your choice is terminated with a USB-A plug. It allows you to conveniently connect the device to your computer or console. Do you have newer equipment or want to expand the capabilities of your smartphone? No problem. In the set you will find a small adapter that converts the USB-A plug into USB-C in seconds.
Convenient access to the USB socket
Adapters and adapters that resemble memory sticks with their dimensions make it easier for us to work with many devices, but they sometimes block access to adjacent USB ports on the computer. In the case of the Saramonic EA5, every detail has been taken care of. The use of a 10 cm long cable with a straight plug allows the adapter to be plugged in comfortably, without blocking other USB ports.
Specification
model: Saramonic SR-EA5

power supply: USB (5V, 200 mA)

frequency response: 20 Hz – 20 kHz

sampling frequency: 48 kHz

bit depth of sound: 16-bit

signal-to-noise ratio: > 85 dB

volume control range: 0 – 20 dB

noise reduction range: 0 – 45 dB

Sockets:

headphone (3.5 mm mini Jack)

microphone TRS (3.5 mini Jack)

headphone TRS / TRRS (3.5 mm mini Jack)

system requirements: macOS 10.12 / Windows 10

cable length: 10 cm

dimensions: 80 x 35 x16 mm

weight: 36.5 g (including USB-C / USB-A adapter)
Kit contents
Saramonic soundcard SR-EA5 – 3x mini Jack / USB-C/A

USB-C / USB-A adapter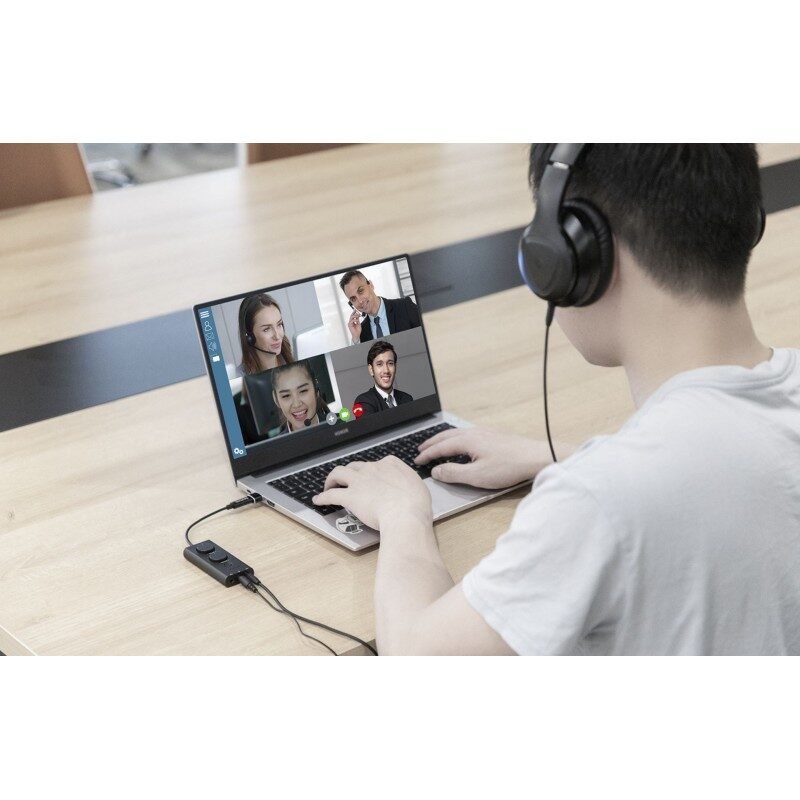 Garantija: 24
Krāsa: Black
Piederumi: yes
Adapteris: yes