LED
»

GODOX

»

Godox FH50Bi Flexible Handheld LED Light

»

(new)

Flexible handheld LED lamp
Easy shaping of light
Experience the convenience of quickly shaping lighting areas with the lamp's strong metal frame that locks the new arrangement firmly in place after a single bend.
Lighting on the go
The FH50Bi is an ultra-light panel that is as easy to carry as a bottle of water. Thanks to its portable design, the panel excels in outdoor applications and delivers exceptional performance wherever you go.
Flexible
The ultra-thin light panel is an exceptional lighting solution for narrow spaces such as cabinets, shelves and small studios. Its ability to blend into its surroundings is a great advantage. Its ability to blend into its surroundings is also remarkable, allowing it to be fixed to the ceiling without drawing attention to the light source.
Soft illumination
The panel design creates a soft lighting effect. It provides balanced lighting, reduces the strong contrast between high lights and shadows and provides natural lighting. For portrait photography, it helps hide small flaws and makes people look more attractive.
11 FX effects
With the FH50Bi featuring 11 FX effects, simulating scenes with different narrative themes becomes a breeze. Whether you want to evoke a romantic mood with candles or create a festive atmosphere with fireworks, just open the FX interface.
Free control
The remote control (optional) and Godox Light app make this lamp attractive to users who need remote adjustments, allowing quick lighting adjustments in hard-to-reach places or while shooting.
Easy shooting on location
With the option to power the lamp via V-mount or NPF batteries, you can use the lamp in a variety of locations.
Characteristics
Model: FH50 Bi

Output voltage adapter: 16.8V

Input power: Max.≈62W

Specifications NPF battery (sold separately): 7.2V-8.4V⎓*2

Specifications V-mount battery (sold separately): 14.8V⎓

Colour temperature: 2800K~6500K

Brightness range: 0%-100%

FX type: 11

CRI: Average≥97

TLCI: Average≥97

Channel: 32(1~32)

Group: 16(A-F, 0-9)

ID: 99: 1-99

Mode: CCT/ FX

Control method: 2.4G wireless control/Bluetooth APP/Light body control

2.4G Wireless Operation Distance: Max.50m

Bluetooth Transmission Distance: Max.30m

Working Environment Temperature: -10 ℃ ~ 40 ℃

Dimension: 317mmx311mmx34mm

Net Weight: 570g

Standard: 2 years warranty

Battery/batteries 3 months

Bulbs/flash tubes: o months
In the box
1x Flexible Handheld LED Light

1x Stand adapter

1x carrying case

1x AC power cable

1x adapter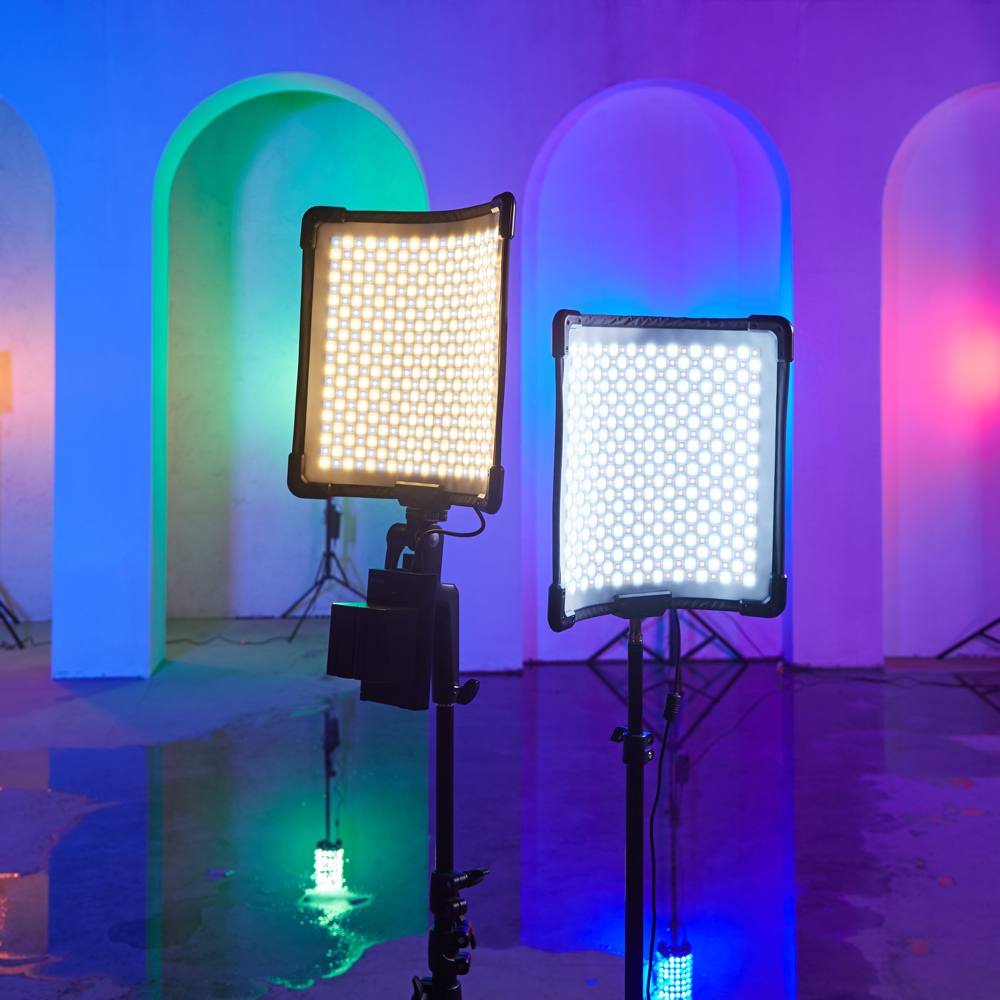 Gaismas temperatūra: 2800K-6500K
LED apgaismojums: yes
CRI: RA 97+
Bezvadu vadība: yes
Izmērs cm: 317mmx311mmx34mm
Svars (gr.): 570
Zibspuldzes: yes
FLEXIBLE: yes
CREATIVE: yes
Bi-Color: yes
Continuous light: yes
LED Panel: yes