Somas Drones
»

LOWEPRO

»

LOWEPRO DRONEGUARD CS 200

»

(new)
Hard case designed to carry and protect the Parrot Bebop 2,Yuneec Breeze and smaller enthusiast quadcopters and flying cameras.
Get flexible organization for your quadcopter and drone gear -- including all accessories. The DroneGuard CS 200 was designed by drone pilots for the depth and form factor of the Parrot Bebop 2 or Yuneeq Breez and has room for a small tablet such as iPad mini. The CS 200 also fits FPV 250 racing drones and similar sized quadcopters and flying cameras.
The perfect, out-of-the-box solutions for carrying, organizing, storing and protecting your drone gear and all essentials.
FormShell™ technology with lightweight, yet sturdy composite-shell construction offers superior protection for gear without adding weight or bulk.
Patent-pending DroneGuard system of organization features flexible dividers and compartments for all large and small accessories.
DroneGuard system is easy to customize. Change your flight plan; change your set-up!
Includes dedicated storage for blades, props, batteries, cables, chargers, mounts, manuals, etc.
Dedicated and padded tablet pocket provides device protection and organization.
Handled and removable storage panel with accessory straps helps to keep small and fragile parts secure and neatly organized. Easy to grab, go and fly.
Exclusive, tactical "fractal camo" print on top of case for a rugged and unique aesthetic.
Sturdy grab handle and attachment loops.
Ideal as an organized storage option as well as a protective transport case.
Fits:
The depth and form factor of the Parrot Bebop 2 plus 8 inch tablet. Also fits most FPV 250 class racing quadcopters.
Technical Specifications:
Internal Dimensions: 27 x 27 x 11 cm
Tablet Compartment: 23 x 18 x 2 cm
External Dimensions: 29 x 29 x 13 cm
Weight: 0.634 kg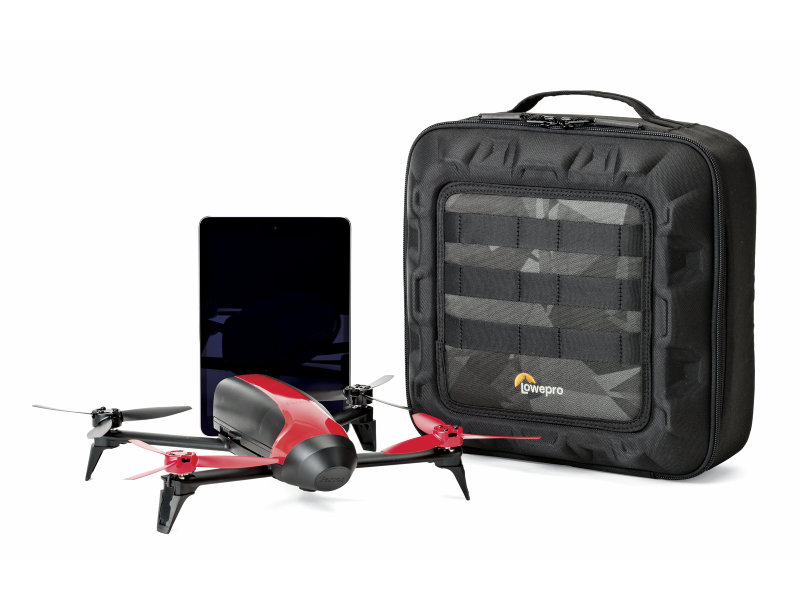 Izmērs: XL
Krāsa: Black
Laikapstākļu aizsardzība: yes
For Drones: yes
Garantija: 24
Profesionāļiem: yes