Soma
»

F-STOP

»

F-STOP Satori EXP v2 Malibu Blue

»

(new)
The F-Stop Satori EXP v2 is a perfect bag for when you go on an expedition. Ideal when many devices you need to wear to a base camp or a distant location and great for long trips where you do not want concessions in terms of materials. The optional ICUs are mutually to combine with the Satori EXP v2. Use a small ICU if you have little space need for your photo or video equipment and want to have more space for other things or use an extra ICU if you really want to be sure that all your equipment is properly stowed. The ICUs can be found in the "Accessories" tab.

Space for a lot!
The Molle attachment points are designed for use with the Dakota Component System and the internationally standardized Molle system. The Satori EXP v2 is provided with an integrated laptop-sleeve for a laptop computer to 17 ". The thick lining makes this bag into a real workhorse that can withstand significant abuse. The hip belt, the padded shoulder straps and adjustable chest straps ensure that the bag to carry, and continues to contribute. These top bag F-Stop has a lot of large pockets and straps so you pretty much everything you would want extra carry also can carry.

There is a slight difference between the first version and V2 of the F-Stop Satori Backpack. The V2 has an elastic bottom of the bag for added strength. The Satori EXP V2 has a Hypalon coating on the underside. This significantly increased the durability of the bag.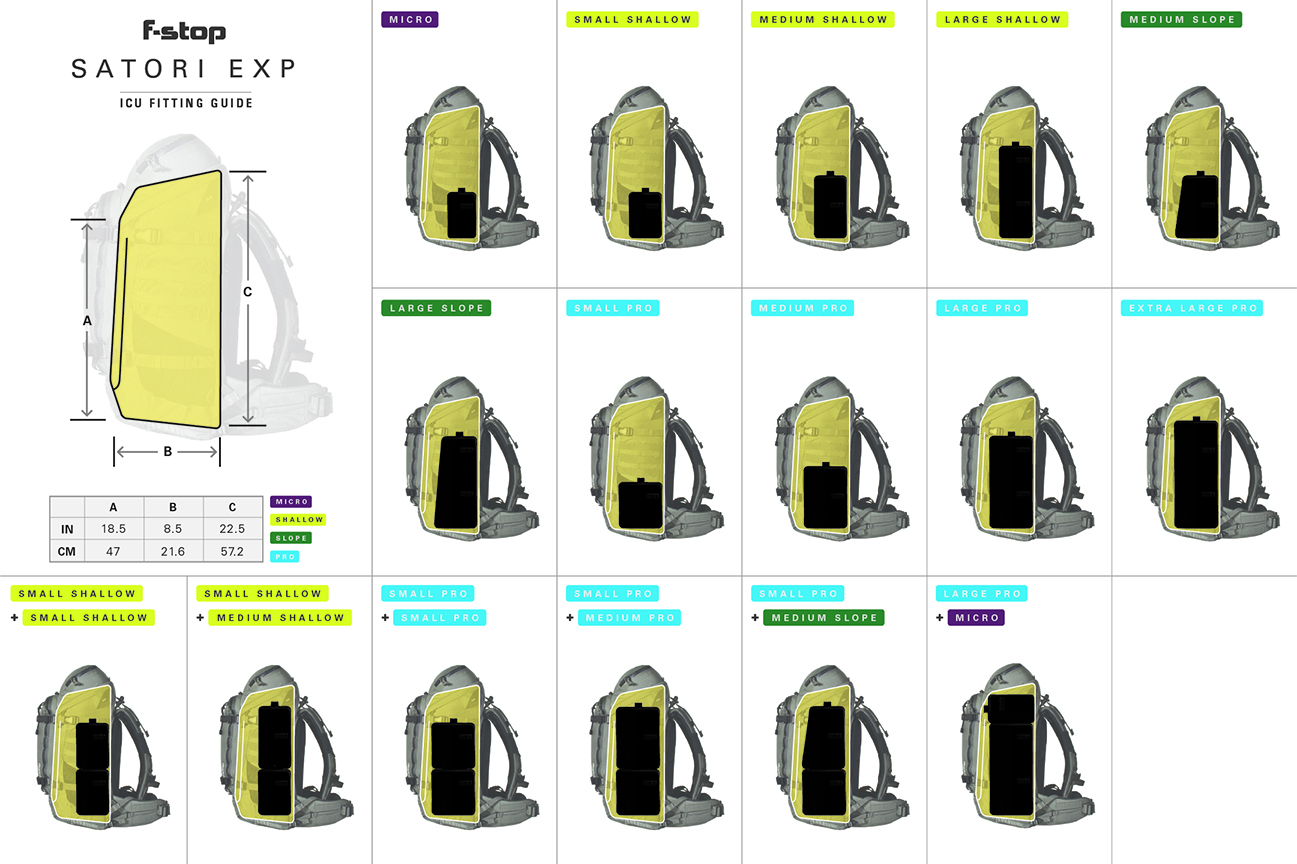 Capacity: 62 liters
- Dimensions (WxHxD): 35.6x66x29.2cm
- without ICU Weight: 1.85kg
- DWR treated, double 330D ripstop nylon with 1500mm polyurethane coating
- EVA padded waist belt and shoulder straps
- Internal aluminum frame to heavy load easier can carry
- Jersey laminated EVA padded back
- YKK zippers for extra glove-friendly water and weather resistance
- Hypalon zipper protection helps prevent water ingress
- Duralex buckles

Izmērs: XXL
Krāsa: blue
Materiāls: polyester
Laikapstākļu aizsardzība: yes
Garantija: 24
Profesionāļiem: yes