Adapters
»

Techart

»

TechartPro Lens Adapter Canon EF Nikon Z / ZTC-01

»

(new)
Short profile
Adapter

Connection Canon EF and Nikon Z

supports AF-S, AF-C and MF

corrects EXIF ​​data of the camera
Product description for TechartPro lens adapter Canon EF
Supports AF-S, AF-C and MF, corrects EXIF ​​data of the camera, phase autofocus, supports image stabilization of Canon EF lenses, lens dock included for firmware upgrade
The Canon EF - Nikon Z autofocus adapter is the groundbreaking product from Techart. Techart used the flange distance of the Nikon Z-Mount and developed an adapter to convert all legendary Canon EF-Mount lenses (from Canon / Sigma / Tamron / Tokina / Zeiss) to Nikon Z cameras. The adapter can 'translate' the Canon EF protocol into Nikon Z and the AUTOFOCUS, AUTO-APERTURE and LENS STABILIZATION functions of the Canon EF lenses can be retained.
Both modes, AF-S, AF-C, AF-F and MF work on the Nikon Z6 / Z7. Face and eye recognition, EXIF ​​reading and time-lapse function can also be supported. Phase Detection AF is used, so AF speed is the same as using native Z-mount lenses on the cameras. The firmware * can be updated via a separate lens docking station (included).
* Samyang / Rokinon / Sigma AF lenses are currently NOT supported. This can change with a future firmware update.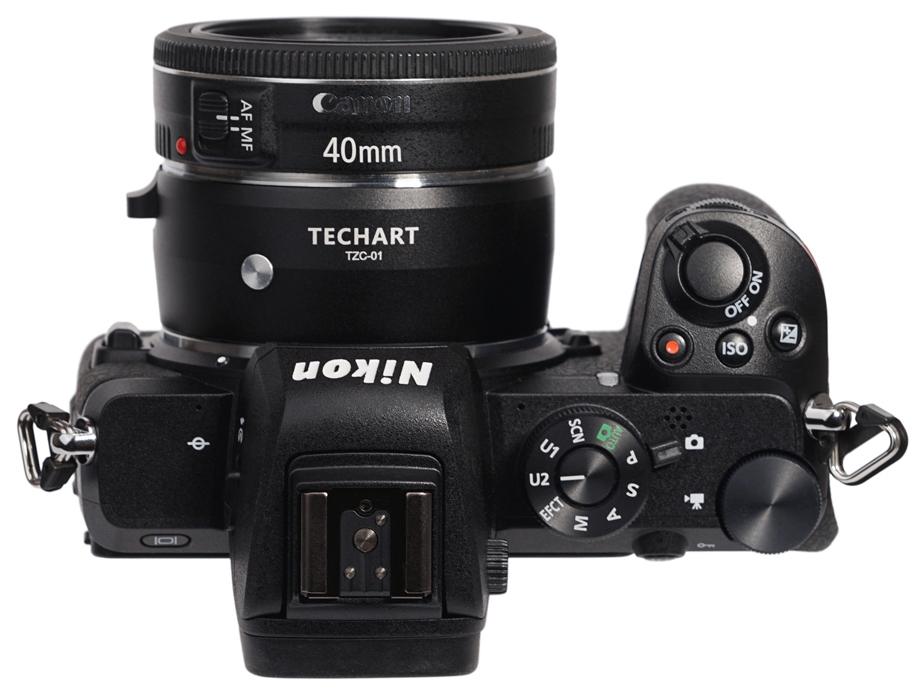 Montāžas tips: Nikon-Z
Krāsa: black
Profesionāļiem: yes
Automātiskais fokuss: yes
Priekš objektīviem:: Canon-EF
Diafragmas kontrole: yes