Kompaktā sistēma kamera
»

Panasonic

»

PANASONIC LUMIX G9 + Lumix 14-140/3,5-5,6-II

»

(new)
Meet the new Panasonic Lumix G9 – a system camera packed with innovative technolog and equipped with a 20.3 megapixel Live MOS sensor that captures still images with exceptional high sharpness and detail.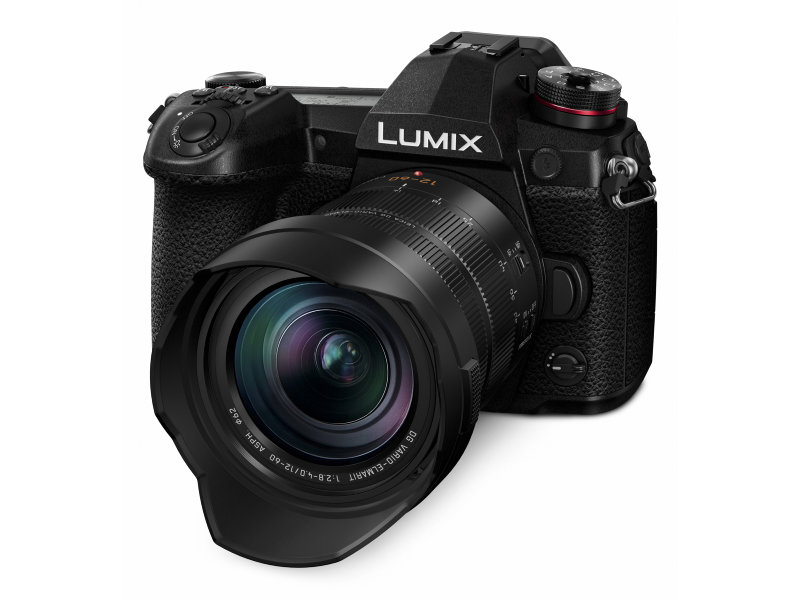 Built for action
Panasonic's DFD technology (Depth from Defocus) provides fast and accurate autofocus with a response time of only 0.04 seconds. Capable of shooting up to 20 fps while tracking a moving subject in AF-C mode (continous autofocus), the Lumix G9 allows you to capture perfect pictures even in the most action-packed situations.
Want to freeze a golf swing with absolute sharpness? Take a 60 fps burst with the electronic shutter set at 1/32 000 second!
A camera you can depend on
When photographing in challenging environments or weather conditions, you must be able to rely on your equipment. The Lumix G9 is built for tough use and its weatherproof metal chassis (magnesium alloy) can withstand freezing temperatures (down to -10 degrees), water splash and dirt. The G9 is a camera for outdoor use, with dual SD slots, USB battery charge and an optional battery grip (DMW-BGG9).
A large ergonomic grip makes the Lumix G9 comfortable to hold even when using heavier lenses like the Panasonic 100-400mm super telephoto zoom. In addition to the articulated 3.2" touch screen at the back, there is also a large status LCD on the top providing instant confirmation of important camera settings. Front and rear control dials make it easy to change shutter speed and aperture. Want to manually select AF point? Use the dedicated joystick found exactly in the right position for your thumb.
OLED viewfinder
The Lumix G9 has a large, high resolution electronic viewfinder with OLED technology for maximum image quality. With a resolution of 3 680K dots and a refresh rate of 120 bps, the image is crisp, detailed and completely free of lag. With 1.66x magnification, or 0.83x full frame equivalent, the viewfinder makes composing easy and allows you to really connect to your subjects.
Image stabilization with 6.5-step advantage
Sometimes there is simply no time to set up a tripod, making a handheld shot the only option. Thankfully, the Lumix G9 has built-in image stabilization (5 Axis Dual I.S. 2), which can also be combined with the stabilization in several of Panasonics lenses. Together they allow you to use up to 6.5 stops longer shutter speed than normal while still getting sharp and crispy images.
High Resolution mode – extreme detail reproduction with 80 megapixels
If you want to capture great sceneries with extreme detail, set the Panasonic Lumix G9 to the special High Resolution mode and the camera will deliver stunning 80 megapixel images! The High Res mode takes 8 exposures in rapid succession with microscopic movements of the sensor between each exposure. Then it combines them into a single 80 MP image that can be saved to the memory card, either in jpeg or raw format. The technology requires that both the subject and camera are stationary during the exposure, but provide a truly amazing result.


High quality video
With the Lumix G9 you can make reality of your ambitions as a movie producer. The camera can record video clips in 4K resolution at up to 60 fps (60p). Or 180 fps in Full HD if you want to shoot slow motion scenes. External microphone and headphone ports are other features you will benefit from in your productions.


Important Features
20.3 megapixel image sensor without low pass filter
5-axis image stabilization with 6.5 stop advantage
Splash, dust and freeze proof metal chassis
Video recording at 4K, 60p
High Resolution Mode provides 80 megapixel images (only with non-moving subjects)
Electronic viewfinder with OLED-technology, 3 680K dots and 0,83x magnification
Fully articulating 3.2" touch screen
Built-in WiFi and Bluetooth for wireless transmission of photos
20 fps burst shooting with AF-C (continous autofocus)
1/32 000 second with electronic shutter (1/8000 s with mechanical)
Dual card slots for SD
Battery grip DMW-BGG9 available as accessory
Specifications
Image sensor: Four Thirds, 17,3 x 13 mm. No low pass filter
Resolution: 20.3 megapixel
Lens mount: Micro Four Thirds. 2x focal length multiplier (full frame equivalent)
Viewfinder: Electronic viewfinder with OLED-technology. 3 680K dot resolution. Display speed 120 b/s. 1,66x magnification (0,83x full frame equivalent)
Screen: 3.2" articulated LCD with 1 040K dot resolution
Sensitivity: ISO 200 – 25 600 in 1/3 steps. Extended range down to ISO 100
White balance: Auto, five preset modes, manual
Focus: Contrast detecting autofocus with 225 AF-ponts and DFD technology. Also Face Detection and manual AF-point selection
Metering modes: Multi, centerweighted, spot
Exposure: Program, shutter- and aperture priority plus manual exposure. Exp.compensation +/- 5 stops in 1/3 stops. Bracketing +/- 3 stops
Shutter: Mechanical shutter with 1/8000 – 60 s. Electronic shutter 1/32 000 – 1 s. Bulb up to 30 min. 1/250 s flash sync
Continous drive: With mechanical shutter: 12 fps (AF-S), 9 fps (AF-C). Up to 600 images in jpeg and 60 in raw. With electtronic shutter: 60 fps (AF-S), 20 fps (AF-C). Up to 50 images in jpeg or 50 images in raw.
Video: 4K (3840 x 2160 pixels), 60p/50p at 150Mbps (maximum 10 min), 30p/25p/24p at 100Mbps (maximum 59 min 29 s). Full HD (1920×1080 pixels) up to 180 fps. Format: AVCHD, MP4. Built-in stereo microphone
Flash: Accessory shoe for external flash. No built-in flash
Storage: Dual card slots for SD/SDHC/SDXC. Compatible with UHS-II / V90 speed class.
Battery: Lithium ion battery DMW-BLF19. Battery grip DMW-BGG9 available as accessory
Connections: WiFi and Bluetooth for wireless transfer. External microphone port. Headphone port. HDMI. USB 3.0 port
Other: Weather protected metal housing (magnesium alloy). 80 megapixel High Res Mode (for stationary subjects). 6K Photo Mode (18 megapixel) with 30 fps. Multiexposure. Interval Timer shooting
Dimensions: 137 x 97 x 92 mm
Weight: 658 grams including battery and SD-cards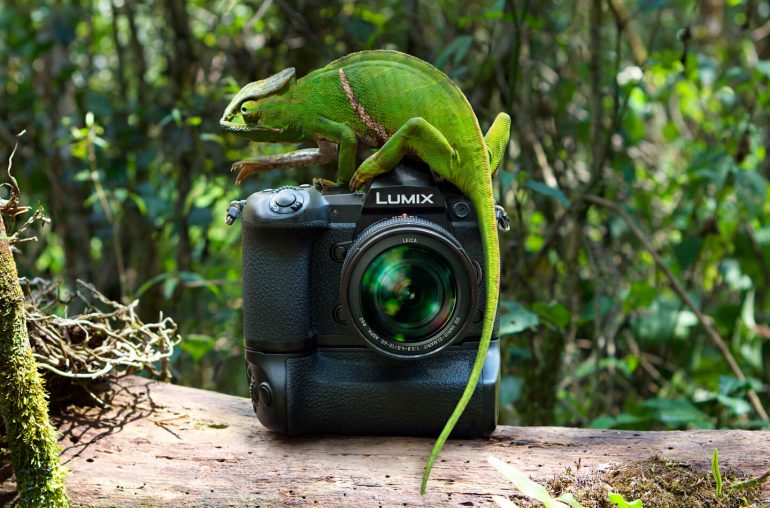 Montāžas tips: MFT ( micro 4/3 )
Sensora Izmērs ": 4/3"
Krāsa: black
Body / Kit: kit
megapixels: 20
viewfinder: yes
Battery Grips: yes
Displeja tips: Fully articulating
image stabilization: yes
wi-fi: yes
Allweather protection: yes
touch screen: yes
GPS: yes
video: FullHD
Izmērs cm ( L x W x H ): 137 x 97 x 92 mm
Svars (gr.): 658g (Body, Battery, SD)
Garantija: 24
Kartes tips: SDXC
Video 4K: yes
displey size: 3.2