Kompaktā sistēma kamera
»

Panasonic

»

LUMIX GX8 Silver KIT 12-35/2,8 BLACK

»

(new)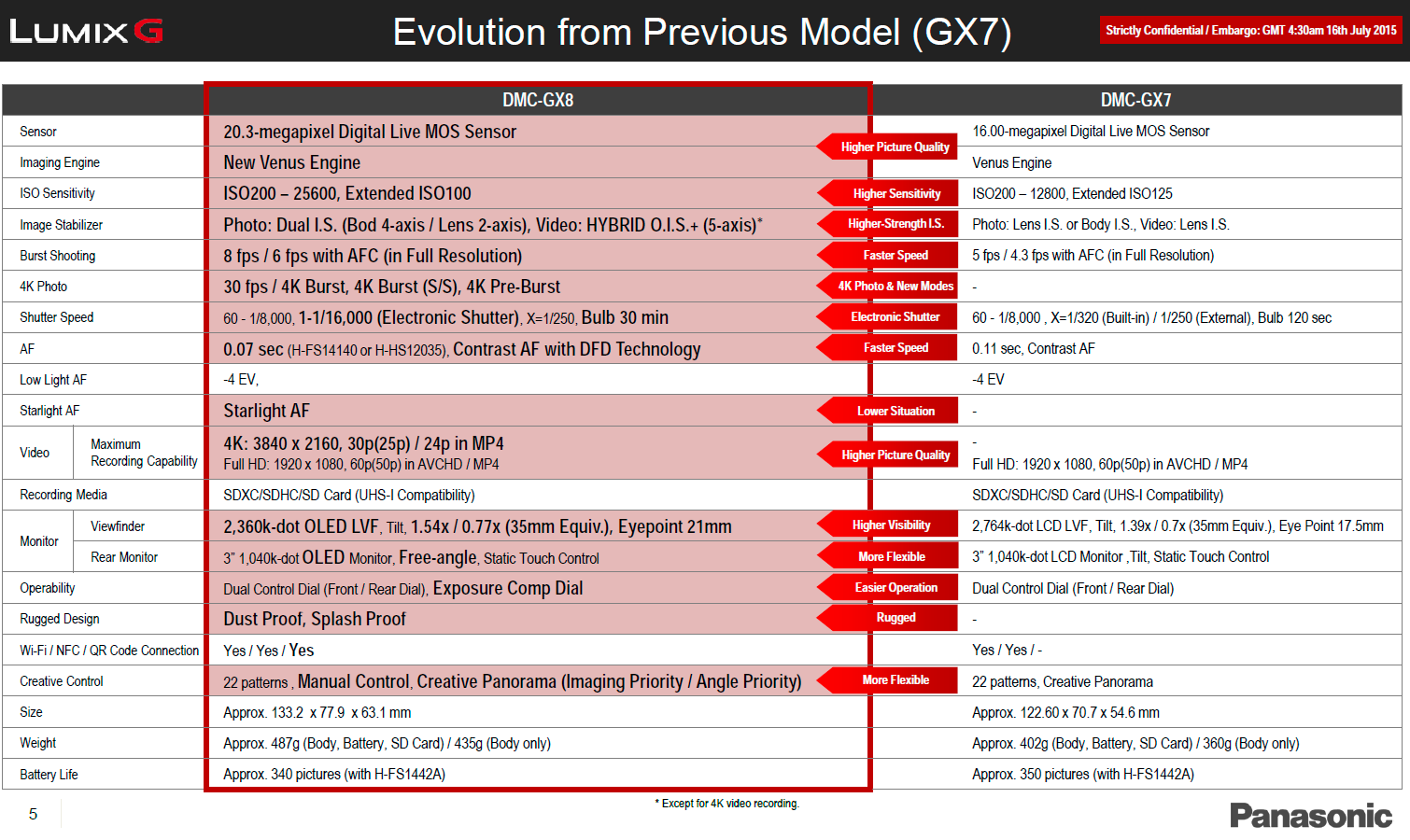 Pairing 4K recording and an updated Micro Four Thirds sensor, the black Panasonic Lumix DMC-GX8 is a sleek, compact mirrorless camera enabling versatile, multimedia recording. Utilizing a high resolution 20.3 MP Digital Live MOS sensor, along with a Venus Engine image processor, the GX8 is able to record 4K UHD movies at 30 or 24 fps; record full-resolution stills at 10 fps with AF-S or 8 MP stills at 30 fps; and work in difficult lighting situations with a top sensitivity of ISO 25600. Complementing the imaging capabilities is a unique Dual I.S. system that offers the use of both in-camera and in-lens image stabilization systems to effectively minimize the appearance of camera shake. The body design is also characterized by a durable, magnesium alloy construction that incorporates a tilting 2.36m-dot OLED electronic viewfinder and a free angle 3.0" 1.04m-dot rear OLED touchscreen to suit working from a variety of angles. Offering an enhanced set of imaging features with a comfortable form factor, the GX8 is an everyday camera designed with advanced multimedia capture in mind.



Among other features, the GX8 also features built-in Wi-Fi with NFC to enable seamless wireless image transfer and remote camera control from linked smartphones or tablets. Benefitting both stills and movies, Panasonic's DFD (Depth-From-Defocus) AF system helps to quicken focusing speeds while a Starlight AF feature maintains focusing accuracy in low-light down to -4 EV and manual focus is accented by focus peaking and Touch AF controls.


20.3 MP Digital Live MOS Sensor and Venus Engine

An updated 20.3 MP Digital Live MOS Micro Four Thirds sensor pairs with the Venus Engine image processor to deliver fast overall performance, a wider dynamic range, with notable image quality to suit working in a wide variety of conditions. Sensitivity ranges from ISO 200 to 25600, with the ability to extend down to ISO 100 for working in bright conditions or with longer shutter speeds. Versatile burst shooting modes also allow you to pair high continuous shooting rates with single-shot or continuous autofocus. Using the mechanical focal plane shutter, you can shoot up to 8 fps with AF-S, 6 fps with AF-C, and 5.5 fps during live view with AF-S. For even faster performance, up to 10 fps shooting is possible with the electronic shutter function or 30 fps at 8 MP using the 4K Photo Modes.
4K UHD Video Recording

In addition to the versatile still shooting modes, the GX8 also supports recording 4K UHD (3840 x 2160) video with either 30p or 24p frames rates at 100 Mbps in the MP4 format. Full HD 1080p/60 is also supported, in both MP4 and AVCHD formats, as well as HD and SD resolutions.

A built-in stereo microphone can be used during recordings, and features an integrated wind-cut filter, or an optional external microphone can be utilized via the 2.5mm jack for even clearer sound.


4K Photo Modes

Utilizing the 4K video recording capabilities, a trio of still shooting modes are available for recording continuous 8 MP stills at a 30 fps shooting rate:

4K Burst: Just as with video recording, this mode will allow you to continuously record 8 MP images at 30 fps for up to 29 min. 59 sec., making it ideal for instances where you need a fast frame rate in order to capture the best moment.
4K Pre-Burst: This mode is ideal for times when you're unsure of the critical moment to press the shutter button and will record 8 MP images at 30 fps one second prior to and one second after pressing the shutter button in order to give you 60 frames to choose from.
4K Burst (S/S): This mode most closely follows the 4K video recording process, and allows you to playback your video, pause at the chosen moment, and use the shutter button to mark a chosen frame from the video and save it as a single 8 MP frame.
Dual Image Stabilization

Helping to achieve the utmost sharpness when photographing handheld, Dual I.S. combines the GX8's sensor-shift image stabilization technology with lens-based image stabilization to compensate for a broader range of movement types to render sharper, clearer imagery. Dual I.S. requires the use of compatible Lumix lenses featuring O.I.S.


Body Design and Built-In Wi-Fi

A large OLED Live View Finder features a unique tilting design to benefit working from low angles and also has an impressive 2.36m-dot resolution, 0.77x magnification, and 10,000:1 contrast ratio.
A larger means for image composition and playback, the 3.0" 1.04m-dot rear OLED monitor has a free angle, tilt and swivel design to support viewing from a variety of angles. It is also a touchscreen, which permits intuitive menu navigation and settings control.
Constructed from magnesium alloy with die-cast front and rear frames, the GX8 features a durable design that also incorporates extensive sealing at each joint, dial, and button to render it both splash- and dust-proof.
The sleek flat-body profile incorporates both front and rear dials for intuitive control over aperture and shutter speed settings. Eight assignable function buttons are also available, as well as a dedicated exposure compensation dial.
Built-in Wi-Fi connectivity with NFC allows for wireless image sharing and remote camera control from linked smartphones and tablets.
Depth-From-Defocus and Starlight AF Technologies

For accelerated autofocus performance, DFD (Depth-From-Defocus) technology is employed to quickly calculate the distance to subjects and adjust the focusing position in as little as 0.07 seconds, which enables continuous shooting up to 6 fps with continuous AF. This contrast-detection type focus method benefits both still and video recording modes, as well as subject tracking applications where subject color, size, and motion vectors are used to intelligently lock-onto the moving subjects and ensure precise focus. Additionally, supporting working in low-light conditions, a Starlight AF feature enables accurate AF performance down to -4 EV.

Benefitting manual focus operation, focus peaking is available that highlights bright edges of contrast with a colored outline for quickly recognizing your focus point, as well as Touch MF Assist for touch-to-focus operation.
Other Camera Features

A mechanical focal plane shutter enables a fast maximum shutter speed of 1/8000 sec., as well as a top flash sync speed of 1/250 sec. An electronic shutter function also avails a top shutter speed of 1/16,000 sec. to better enable working in bright conditions and with wider aperture settings.
More than 100 consecutive full-resolution JPG files can be captured in a burst, or approximately 30 consecutive raw files in a single burst.
Raw image files can be processed in-camera for a more streamlined post-production workflow.
Depending on the lens in use, the included DMW-BLC12 battery provides approximately 330 shots per charge when using the rear monitor, or 310 with the electronic viewfinder.
Photo Style modes: Standard, Vivid, Natural, Monochrome, Scenery, Portrait, Custom, Cinelike D, and Cinelike V.
Creative Control modes: Expressive, Retro, Old Days, High Key, Low Key, Sepia, Monochrome, Dynamic Monochrome, Rough Monochrome, Silky Monochrome, Impressive Art, High Dynamic, Cross Process, Toy Effect, Toy Pop, Bleach Bypass, Miniature Effect, Soft Focus, Fantasy, Star Filter, One Point Color, and Sunshine.

Post focus

20,3 Megapixel MOS sensor
4K Photo/ 4K Video
Microphone input
Dual Image Stabilizer
Superfast AF, 0.007 sec
Tiltable OLED viewfinder with 2360k dots
Free angle OLED monitor with 1040k dots
ISO 100-25600
Splashproof and dustproof magnesium alloy body
8 fps/ AFC 6 fps burst shooting
Wi-Fi with NFC
QR code connection