ārējā baterija
»

NEWELL

»

Newell CarMate Jump Starter – 12000 mAh / Car Jump starter

»

(new)
The Newell CarMate – 12000 mAh starter device – often referred to as a jump starter is a must-have for every driver. With its help, you can quickly and safely start a car with a flat battery without having to seek help from other road users. The compact module offers an impressive 12,000 mAh capacity. The 2 USB sockets will allow you to use the device like a normal power bank. The Newell CarMate is compatible with 12 V batteries. It will bring vehicles with up to 7 litre motors back to life! The set, which is enclosed in a robust padded case, includes high-quality starter cables with clamps, as well as a cigarette lighter adapter and USB-A / USB-C cable. The device also features a universal torch with SOS function and emergency light.

Main product features
Starter device that allows you to start a discharged vehicle battery

enables you to start the battery of cars, motorbikes, vans, camper vans and some trucks, equipped with petrol engines with a maximum capacity of 7 l (in the case of diesel engines, the value is 5 l)

you do not need a second vehicle to start the car with a discharged battery

a 12,000 mAh battery provides up to 40 starting attempts

compatible with 12-volt batteries

ideal choice in summer and winter (unit can withstand temperatures from -20 to 60ºC)

protections against reverse current, overcharging and total discharge, as well as overvoltage and short circuits

Force Start function for starting the engine without a battery or starting a battery whose voltage has dropped below 1 volt

LED indicator to let you know if the clamps are not connected correctly

2 built-in USB ports allow you to use the device like a traditional power bank

convenient way to charge smartphones, tablets, headphones, among others

Built-in torch offering 3 light modes (white light, SOS and warning signal)

fast and convenient device charging via USB-C port

safe storage and transport, in the included rigid case

included starter cables, USB-A / USB-C cable and car cigarette lighter adapter
Don't worry about a discharged battery!
Carrying starter cables in your car and asking other drivers to help you start a discharged battery is a thing of the past! Choose the Newell CarMate – 12000 mAh starter unit and rest assured that, whatever the season, you will always be prepared for unforeseen emergencies. The small module, often referred to as a jump starter, will allow you to resurrect your battery simply and safely in a matter of moments.
Motorcycles, cars and trucks
The Newell CarMate – 12000 mAh jump starter is designed to make one small module compatible with hundreds of different cars, motorbikes, motorhomes, campervans, vans and even some trucks with 12-volt batteries. The maximum capacity of your vehicle's petrol engine can be up to 7 litres (5 litres for diesel engines), and this unique jump starter should still manage to start it in an emergency!

Easy and intuitive operation
By choosing the Newell CarMate, you don't have to worry about having to re-read the manual before connecting the clamps. The whole start-up process is simple and intuitive. One glance at the built-in LCD screen is all it takes to see the available power level, as well as the charge and discharge status. LEDs will make sure that the device is connected correctly.
Safe-start
Although most batteries have the relevant '+' and '-' markings, it is easy to make a mistake in an emergency situation. In the interests of safe terminal cable connection, the Newell CarMate starter unit is equipped with a special protection against incorrect terminal installation. If a mistake is made, an LED will inform you of the error and current flow will be impossible. This solution will help you avoid unnecessary stress and possible damage.
Force Start function
The Newell CarMate is an effective aid in emergency situations. Thanks to the special Force Start function, you will be able to start a lead-acid battery even if its voltage drops below 1 volt. But that's not all! In the most dire situations, CarMate will allow you to start the engine without the battery!

Universal power bank
With this unique starter device in your car, you don't have to worry about low battery levels on your smartphone, headphones or e-book reader. With 2 USB ports, you can successfully use the Newell CarMate like a traditional power bank. The 12,000 mAh capacity is successfully enough to charge your phone several times.
Built-in torch
With the Newell CarMate, starting your battery will be quick and efficient even after dark! The built-in torch will allow you to illuminate the interior of the car and the parts hidden under the bonnet. But that's not all. The device offers 3 different light modes, making it suitable not only as a traditional torch stored in the glove compartment. The Newell CarMate is also an additional emergency light and SOS signal source. This can be helpful in unexpected situations on the road.
Always at hand
Included with the Newell CarMate – 12000 mAh jump starter device you will find a sturdy padded zippered case. With it, your jump starter along with the necessary accessories will always be safe.
Car cigarette lighter adapter
Many drivers have chargers or small devices in their cars that plug into the cigarette lighter socket. By choosing the Newell CarMate, you don't have to give them up! You will find a special adapter included with your starter device. With it you can easily connect your car lighter plug to this unique power bank!
40 month warranty
Newell stands for hundreds of thousands of satisfied customers from all over the world who have enjoyed top quality consumer electronics for years. To take care of them, the service warranty on all the brand's products has been extended up to 40 months! When you choose the Newell CarMate – 12000 mAh starter device, you have the assurance that in the event of any complications, the technical support department will quickly provide you with the appropriate support!
Specification
model: Newell CarMate – 12000 mAh

Built-in battery capacity: 12000 mAh

start-up voltage: 1000 A

peak voltage: 2000 A

Compatibility: 12 volt petrol engines up to 7.0 L, 12 volt diesel engines up to 5 L

Ports:

USB-C input: 5 V / 3 A

USB-A (Quick Charge) output: 5 V / 3 A, 9 V / 2 A, 12 V / 1.5 A

Operating temperature range: -20ºC – 60ºC

dimensions: 163 x 88.5 x 28 mm

weight: 445 g
Kit contents
Newell CarMate starting device – 12000 mAh

start-up cables with clamps

Car cigarette lighter adaptor

USB-A / USB-C cable

zippered case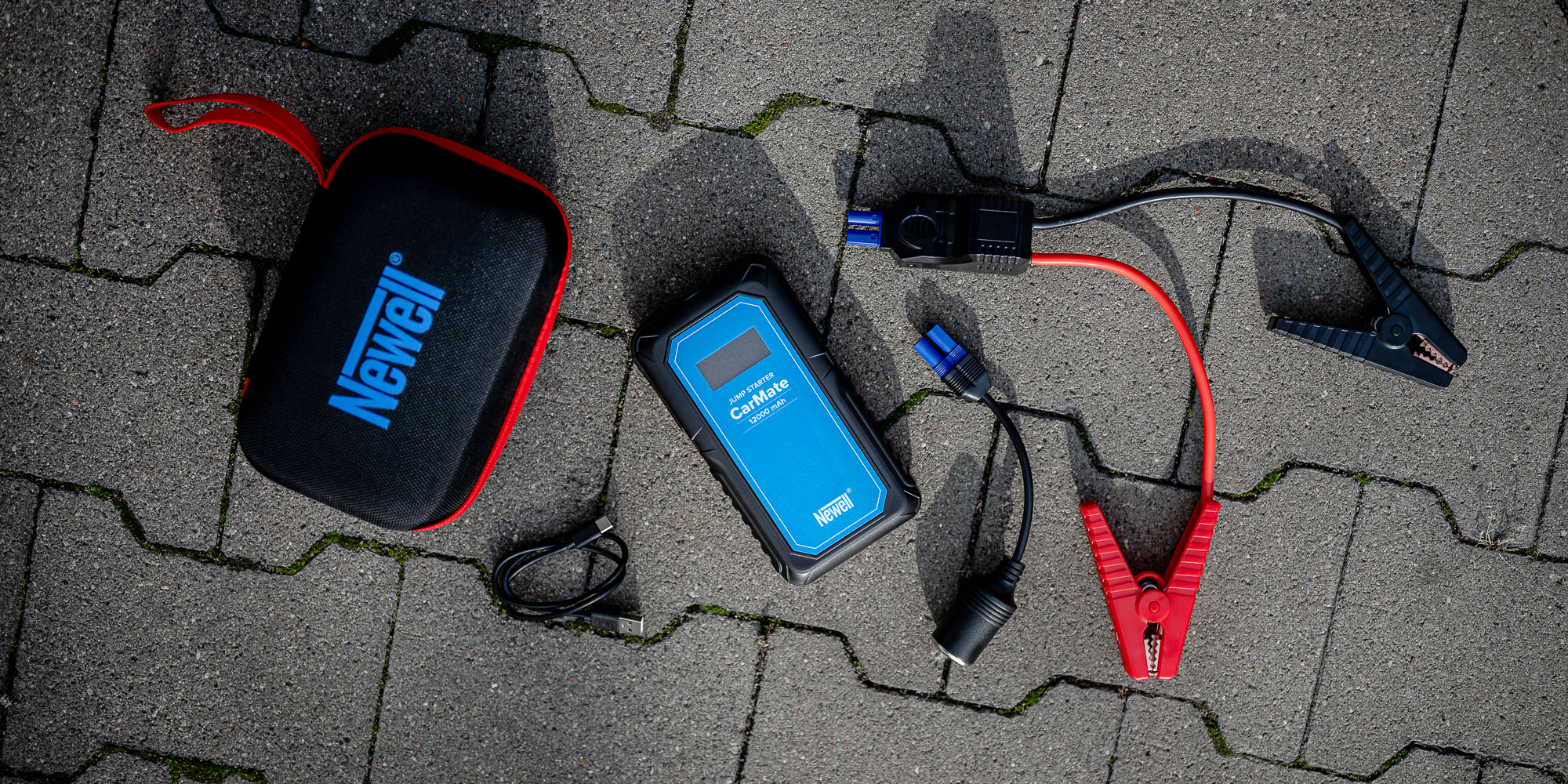 Krāsa: black
Apjoms (mA): 12000
Ražotājs: NEWELL
Kross: Newell CarMate Jump Starter – 12000 mAh / Car Jump starter
Garantija: 24
Par automašīnu: yes
lādētājs: yes
Mob.tālruņiem: yes
Battery / Power: yes