Teleprompter
»

FEELWORLD

»

FEELWORLD TP10 10-inch Teleprompter Smartphone/Tablet (incl carrying case)

»

(new)
Universal Folding Teleprompter




Focus More on Your Performance, Lesser on Your Script




FEELWORLD TP10 is a folding and portable teleprompter which feature with 10-inch standard beam splitter allows you to clearly read scrolling text while looking directly into the camera, perfect for vlog, live broadcast, online class, video recording, interviews, video studio, news and presentation. No need to recite the script, confidence and charming! It can be prompted via smartphone or tablet while DSLR camera or phone is shooting. Supports wide angle lens, Android/iOS app, Bluetooth remote control, easy to operate, make the video production more efficient. Use with exquisite special storage case, more convenient to carry. It is ideal for video, program creator.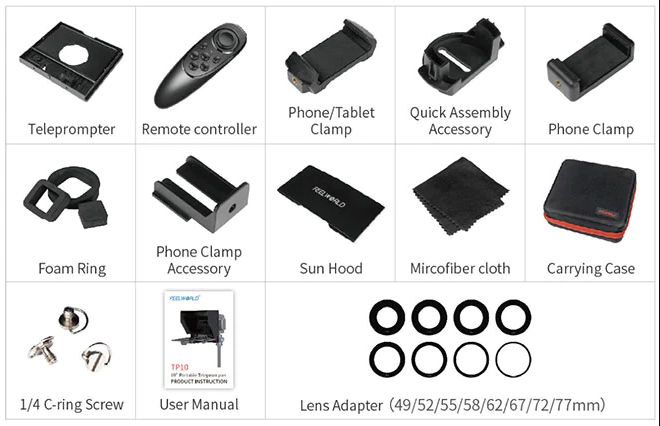 PACK LIST:
1× Teleprompter
1× Phone/Tablet Clamp
1× Quick Assembly Accessory
1× Phone Clamp
1× Phone Clamp Accessory
8× Lens adapter
2× Foam rings
1× Remote controller
1× Sun Hood
1× Microfiber cloth
3× 1/4 C-ring Screw
1× Carrying Case
1× Manual
Color: black
Warranty: 24
Displey Size: 10"
Accessories: yes
Teleprompter: yes