Mirrorless lens
»

VILTROX

»

Viltrox AF 75mm/F1,2 / XF-75 F1.2 AF PRO Fuji X-mount APS-C

»

(new)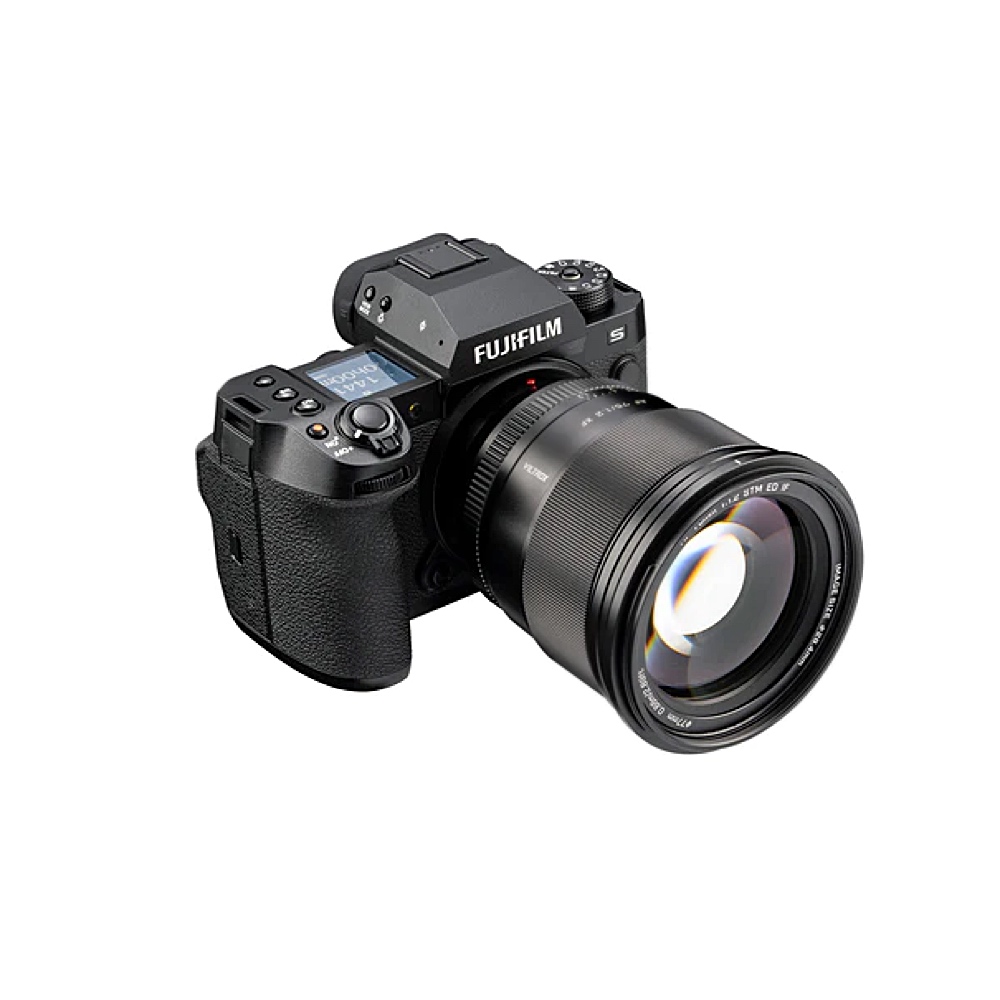 Viltrox XF-75 F1.2 AF Fuji X-mount APS-C
The AF 75mm F1.2 XF Pro is VILTROX's first high-end PRO-series lens and reflects VILTROX's years of developing optical technology. The lens uses HOYA's special nitrate material imported from Japan. With F1.2 super large aperture, it also features advanced autofocus performance as well as professional handling and reliability. The image quality is improved all around, forging phenomenal bright image quality and the ultimate beautiful virtual experience.
With 16 lens elements in 11 groups, 4 high refractive index lenses, the image at maximum aperture is still unrivalled and all details come into focus instantly.
The Viltrox 75mm F1.2 has extremely superior high resolution and restoration capabilities, with sharp imaging and amazing edge-to-edge consistency.
The built-in latest algorithm STM stepper motor delivers the high drive power needed for accurate autofocus and tracking focus. It can also achieve fast, smooth, accurate and quiet autofocus and tracking under extremely shallow depth of field. It also supports autofocus on eyes, animals and other recognition.
With a 3 layers of protection, it has a professional waterproof and dustproof structural design, which avoids dust and water drops.
Characteristics
Camera mount: X-mount

Format Compatible frames: APS-C

Lens Elements: 11/16

Focal Length: F=75mm (115mm)

Viewing angle: 21.35º

Apeture: F1.2- F16

Aperture Control: 11

Shooting Distance: 0.88m-⚭

Focus Mechanism: Ultra Light internal focusing

Focus Motor: STM+Lead screw

Focus mode: MF, AF

Max. magnification: 0.1X

Lens Size ( Diameter/length): ⌀87mmx 101mm

Weight: ~670g

Filter size: ⌀77mm
Camera-Mount: Fujifilm-X
Sensor Size": APS-C
Color: black
Filter Thread (mm): 77
Dimensions cm ( D x L ): 8,70 x 10,10
Weight (gr.): 670
Minimal Focus Distance ( m ): 0.88
Focal Length (35mm eqv.): 75
Autofocus Lens: yes
Manual Focus: yes
Aperture Ring: yes
Lens Hood: yes
Lens Type: fixed
Elements/Groups: 11.6
Diaphragm Blades: 11
Angle of View: 21.35º
Magnification: 0,1x
For APS-C: yes
Warranty : 24