LED
»

GODOX

»

Godox SZ300R Zoom RGB LED Video Light

»

(new)






Godox SZ300R Zoom RGB LED Video Light
Godox SZ300R is a versatile zoomable LED video light designed for professional videographers and photographers who require precise lighting control and colour accuracy. It has a beam angle that can be adjusted from 20 to 65 degrees, making it easy to focus and diffuse light for a perfect balance of brightness and shadow.



With colour modes such as CCT, HSI, RGB and GEL, you can manipulate a wide spectrum of colours and create a striking space with ease. The colour temperature ranges from 2500K to 10000K, giving you a wide choice of warm and cool options. It features 14 FX effects, allowing you to control the speed and create a variety of scenes.



The SZ300R can be controlled via 2.4G, Bluetooth and DMX, allowing you to adjust the lighting without physically being at the fixtures. With the ability to upgrade your lights' firmware, it becomes a hassle-free process to improve their performance and functionality, leading to an enhanced user experience.
Characteristics
Model:SZ300R

Adapter output: 52⎓V5.7A

Power: Max. 330W

CCT:2500-10000K

Brightness range: 0%-100%

FX Type: 14

CRI: ≥96

TLCI: ≥96

CH: 32 (1-32)

GR: 16 (A-F, 0-9)

ID: 99 (1-99)

Mode: CCT mode/HSI mode /RGBW mode /GEL mode /FX mode

Controlling Method: 2.4G wireless control/DMX512 control/Light body control

2.4G Controlling Distance: Max. 50m

Bluetooth Checking Distance: Max. 30m

Zoom: Lighting angle 20°~65°

U-type Bracket Adjustable Angle: 360°

Working environment temperature: -10℃~40℃

Dimension (including u-type bracket): 354mmx201mmx378mm

Net Weight (including U-type bracket: 3.2kg

Warranty standard: 2 Years

Warranty battery: 3 months

Warranty flash tube: None
In the box
1x Light body

1x Steel rope

1x Power cable

1x Adapter holder

1x Reflector

1x Adapter

1x Protection Cover

1x Carry Bag CB89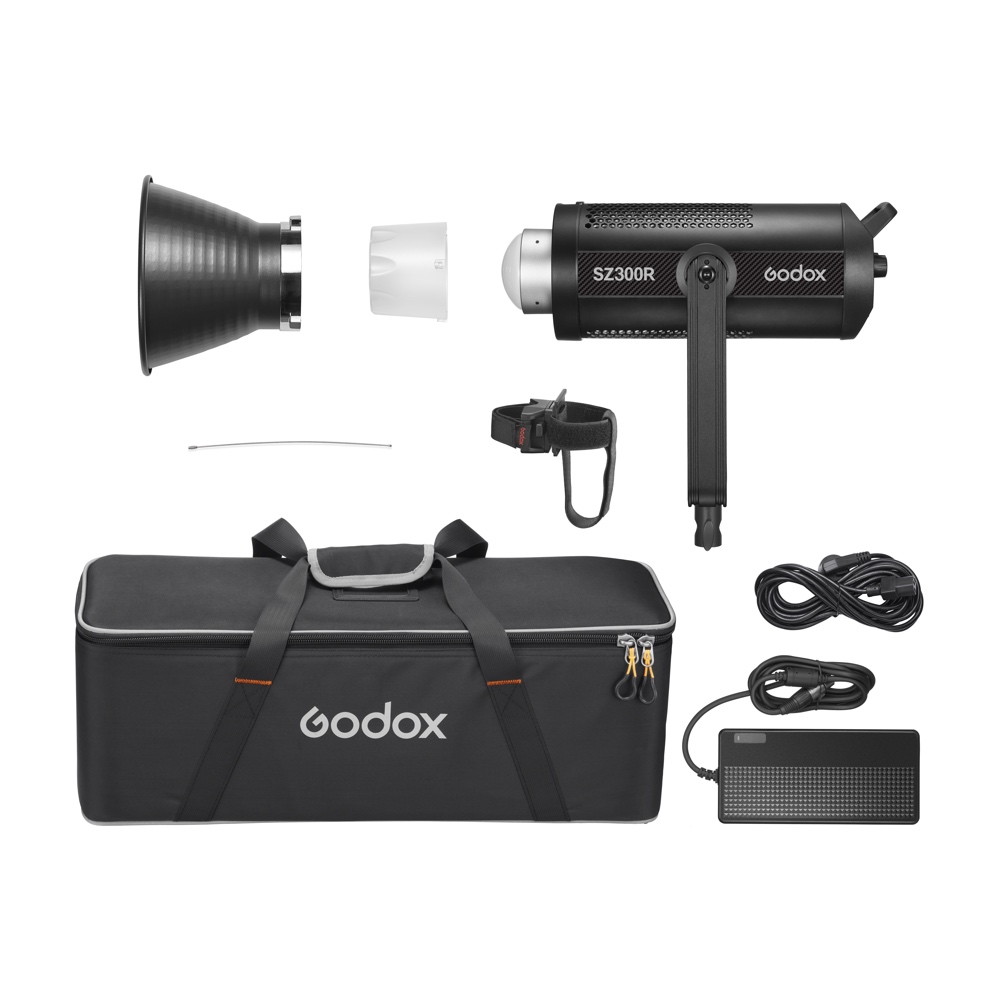 Camera-Mount: BOWENS Mount
Color: black
Color Temperature: 2500K-10000K
LED Light: yes
CRI: RA 96+
Wireless Capability: yes
Flash Head: yes
Output / Power ( watt ): 3300
CREATIVE: yes
Bi-Color: yes
Continuous light: yes
RGB: yes
Zoom: yes