Mirrorless camera
»

Panasonic

»

LUMIX G80 BODY BLACK ( from KIT )

»

(new)
LUMIX DMC-G80 Offers Exquisite Image Quality and Consistent Performance in the Field
4K technologies, improved 5-Axis Dual Image Stabilisation and a Splash/Dust Proof design combine to deliver the perfect camera for high-end, outdoor use
Stunning clarity with every shot
The new LUMIX DMC-G80 features an updated Image Stabilisation system – the 5-axis Dual I.S. 2. By incorporating new gyro-sensor technology, the O.I.S. (Optical Image Stabiliser, 2-axis) and B.I.S. (Body Image Stabiliser, 5-axis) are able to work in perfect harmony and with outstanding accuracy. With improved suppression of blur, resulting pictures and videos remain beautifully crisp despite vibrations caused by shaking hands or traversing outdoor terrain.
With the LUMIX DMC-G80's ability to analyse shooting conditions, including focal length, the new Dual I.S. 2 system is able to utilise max. 5-stop slower shutter speed . Users can also enjoy blur-free photo/video shooting in both wide angle and telephoto, even in low light situations or when shooting with one hand.
To further minimise unwanted vibration, the LUMIX DMC-G80 also utilises an electromagnetic drive in the shutter unit. The shock caused by the movement of shutter diaphragm is dramatically reduced and shutter sound is also minimised. Together with the adoption of solid magnesium for the front panel, shutter vibration is reduced by approx. 90% compared with the DMC-G80's predecessor, the G7/G70.


Power to deliver the highest quality
The 16.0-megapixel Digital Live MOS Sensor and new Venus Engine combine to allow users to shoot vibrant, true-to-life high-quality images with excellent resolution, high contrast, impressive colour reproduction and max. ISO 25600 high sensitivity.
By removing the Low Pass Filter from the DMC-G80's sensor, the limiting resolution is improved by approx. 10% . At the same time, the Venus Engine reproduces vibrant, impressive colour – such as clear sky – by dividing hue, saturation and luminosity and finely adjusting them individually. Taking advantage of this fine tuning capability, the LUMIX G80 enables users to choose a pre-set of contrast, sharpness, saturation and noise reduction that suits their environment and shooting style.
Panasonic's LUMIX G cameras are not only renowned for their still image quality, but also for their high quality video capability in 4K. The LUMIX DMC-G80 records stunningly smooth, high-resolution QFHD 4K video in 3840x2160 at 25p/30p (50Hz) or 24p in MP4 in addition to full-HD 1,920 x 1,080 at 50p/60p (50 Hz) videos in AVCHD Progressive or MP4 (MPEG-4 / H.264) format with practical full-time AF.


Capture those fleeting photo opportunities
Utilising the LUMIX DMC-G80's exceptional 4K video recording capability, the 4K Photo function allows users to extract an 8-megapixel still at 30fps with exact precision, enabling even the most fleeting moment to be caught in a still image.
Three exclusive 4K Photo functions are integrated into the LUMIX DMC-G80: 4K Burst Shooting, 4K Burst (Start/Stop) and 4K Pre-burst; all of which help allow photographers to capture and record that perfect picture by cropping the exact frame they want out from the recorded 4K video footage.
In addition to 4K Photo, the DMC-G80's contrast AF achieves even faster and more precise focusing with digital signal communication at max. 240 fps. The Contrast AF system in the LUMIX DMC-G80 is further enhanced by Panasonic's integration of Depth From Defocus (DFD) technology which shortens the focusing time even further.
If focus is not exactly as the user intended when the shutter is pressed, the LUMIX DMC-G80's Post Focus function enables users to select the specific focus point even after shooting – particularly helpful in situations like macro shooting where severe focusing is required. In addition, the camera also features a new Focus Stacking function. As taking a single macro photo with specific areas in focus can sometimes be difficult, Focus Stacking enables users to take multiple images of the same frame with different focus points, then combine them into one image with the defocus as you like.
In addition, Low Light AF makes it possible to set focus on the subject more precisely in extremely low-lit situations (-4EV) such as wildlife photography at dawn or dusk, while Starlight AF, allows budding astronomers to capture individual stars and constellations in the night sky.

Tough and versatile design
To withstand the demands of heavy field use, the DMC-G80 adopts design with a full die-cast magnesium front frame. It also features splash and dustproof construction thanks to the careful sealing on every joint, dial and button.
To further enhance control, the LUMIX DMC-G80 comes with ergonomically-designed thick grip for a stable holding even in one hand. The front/rear dual dial system with dial operation switch enables direct setting. For example, users can adjust white balance with a front dial and set ISO with a rear dial while choosing the shutter speed or monitoring the noise effect on the rear screen – ideal when dealing with complex lighting situations.
The DMC-G80 boasts a large 2,360K-dot OLED (Organic Light-Emitting Diode) LVF (Live View Finder) with a magnification ratio of approx. 1.48x / 0.74x (35mm camera equiv.) and 100% field of view. It delivers high speed response with minimum time lag of less than 0.01 sec as well as 10,000:1 high contrast for exceptional visibility, plus, the eye point of approximately 20 mm offers high visibility and comfort even for users wearing glasses.
The LVF also comes with a new Power Save Mode. If the sensor detects that the eye has moved away from the LVF, the camera automatically enters sleep mode after 3, 5 or 10 seconds. When the shutter button is half pressed, it instantly switches back into shooting mode. This feature helps to increase the amount of shots that can be taken with one battery charge by almost three times, from 320 to approximately 800.
Adopting a static-type touch control system, the 3-inch (7,62cm), 1040K-dot, free-angle rear screen is easy to control.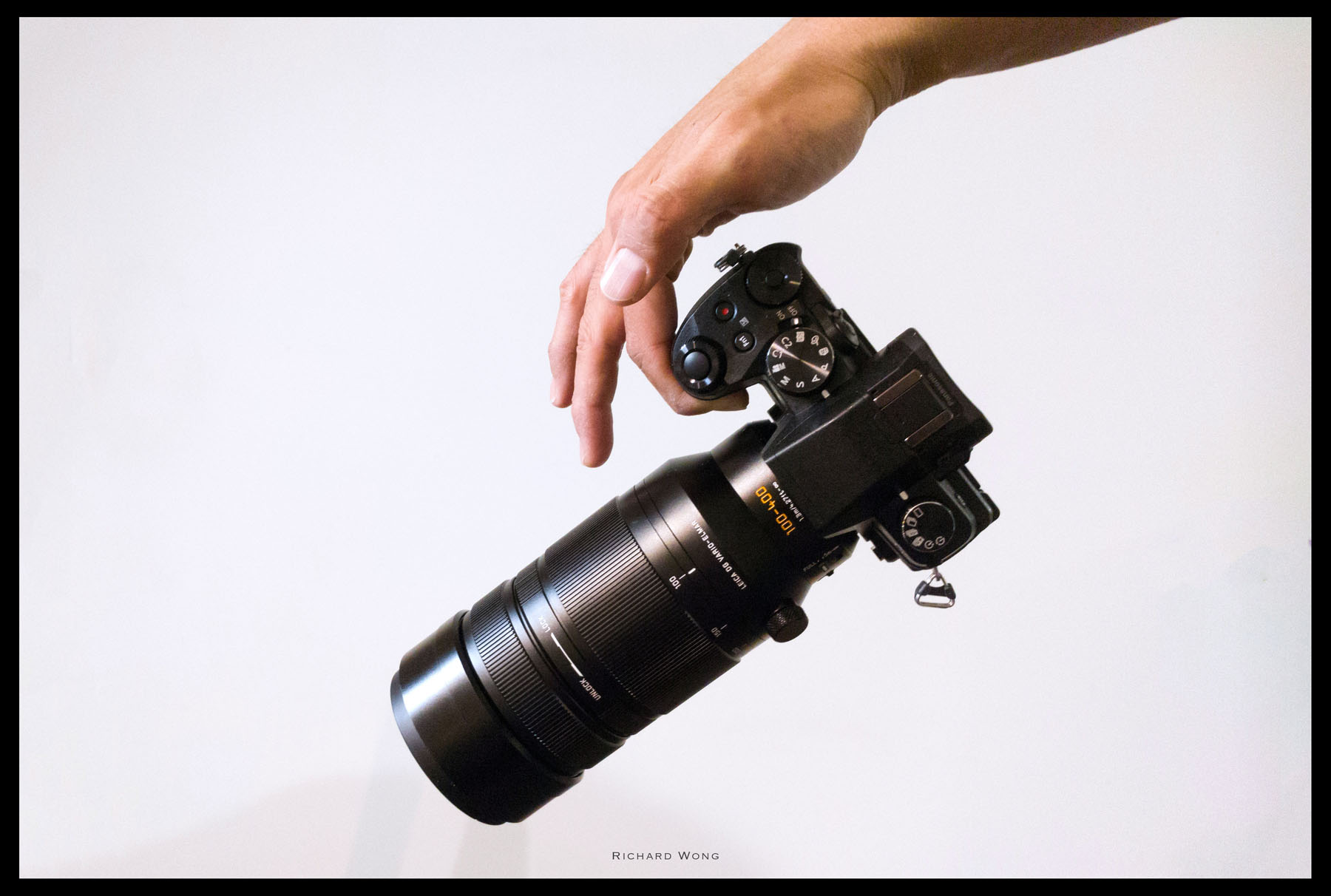 A host of other exciting features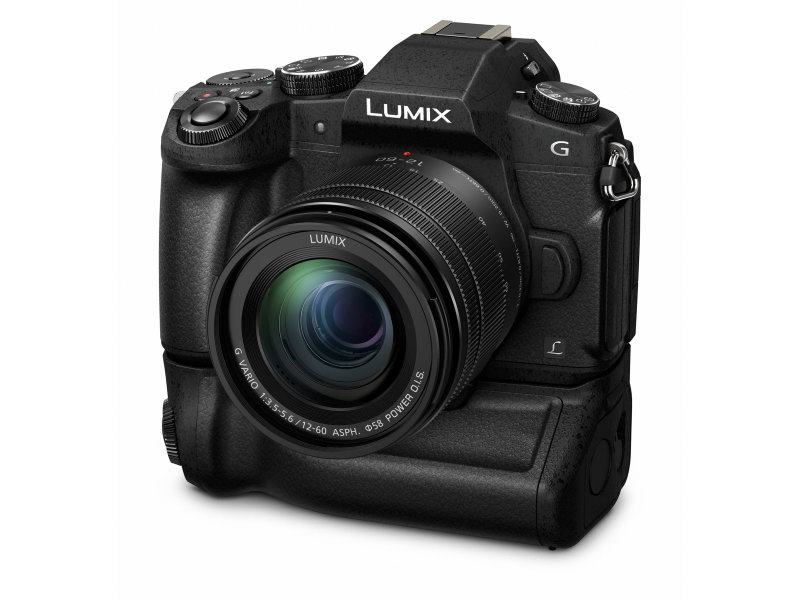 New Battery Grip - DMW-BGG1
The LUMIX DMC-G80 is compatible with the optional Battery Grip DMW-BGG1. By using two batteries - one in the camera and the other in the grip, the DMW-BGG1 extends the battery life for long time shooting. It also makes gripping more comfortable even in vertical angle shooting. Exclusively designed for LUMIX DMC-G80, the DMW-BGG1 perfectly matches the camera, also boasting splash/dust-proof rugged design.
4K Live Cropping
Real-time HDMI image output while simultaneously recording video
The 3.5mm microphone jack
New Focus Bracket and Aperture Bracket
Gamma pre-sets for video recording via Creative Video mode
Easy Wireless Connectivity via Wi-Fi® with Smartphones
Creative Control in P/A/S/M Mode
RAW data development in Camera
Silent Mode
Multiple Exposure
Time Lapse Shot / Stop Motion Animation
1. 5-Axis Dual I.S. 2 works when attaching the lenses that are compatible with it. The compliant lenses are H-FS14140 and H-FS12060 as of 19 September, 2016. Firmware update of the lens is also required.
2. Based on the CIPA standard Yaw/Pitch direction: focusing distance f=50-140mm (35mm film camera equivalent f=100-280mm), when H-FS14140 is used
3. Panasonic comparison with DMC-G7/G70
4. Contrast AF with DFD Technology works only with Panasonic Micro Four Thirds lenses.
5. The Post Focus function needs to be activated manually in the camera menu.
6. When set to '3 seconds', using 12-60mm, 14-140mm or 14-42mm lenses and the bundled battery pack. When the rear screen is set to an on-monitor recording information screen
Camera-Mount: MFT ( micro 4/3 )
Sensor Size": 4/3"
Color: black
Body / Kit: Body
megapixels: 16
Viewfinder: yes
Battery Grips: yes
Type displey: Fully articulated
Image Sstabilization: yes
Wi-Fi: yes
Allweather protection: yes
Touch Screen: yes
GPS: yes
Video: (1920x1080)50p/60p (50 Hz)
Built-in flash: yes
Warranty : 24
Card Type: SDXC
Video 4K: yes
Displey Size: 3