DSLR Cameras
»

Pentax

»

PENTAX KF Black Body

»

(new)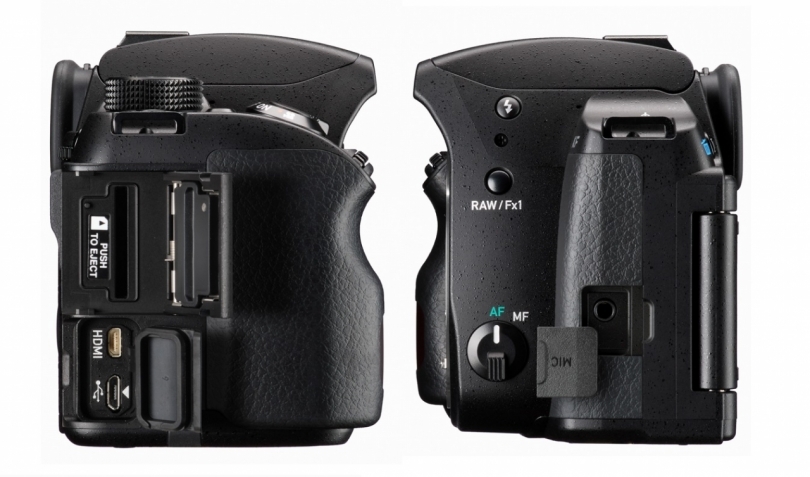 The new Pentax KF is designed to provide outstanding imaging performance in a compact body. It features Pentax well-known dustproof and weather-resistant construction and is the perfect entry-level camera for outdoor photography.
With the new Pentax KF, you get a versatile and flexible camera made to easily accompany you on any adventure regardless of the weather. Despite its compact design, it is easy to use and access all controls on the camera even when its freezing and your wearing gloves. The new camera also inherits several functions found among the larger high-end cameras from Pentax such as advanced autofocus, optical viewfinder with a nearly 100% field of view and tiltable LCD screen.
The Pentax KF assures super-high-resolution imaging, thanks to a state-of-the-art CMOS image sensor with approximately 24.24 effective megapixels and a high-speed 14-bit image data readout. Combined with an AA-filter-free optical design, the sensor delivers super-high-resolution images.
Like most Pentax cameras, the KF gets the image stabilization built into the body. The Shake Reduction effectively minimizes camera shake and has a compensation effect of 4.5 shutter steps and can deliver sharp, blur-free images, even when using a telephoto lens or when shooting in low-light scenes.
This feature is also used to give the camera the pixel shift feature found Pentax high-end models. By taking advantage of the camera's SR (Shake Reduction) mechanism, it captures four images of the same scene by slightly shifting the image sensor for each image, obtaining all RGB color data from each pixel, then merging them into a single, super-high-resolution composite image.
The new camera comes with the high-precision SAFOX X AF sensor module, which assures responsive, dependable autofocus operation. With its 11 sensors including nine cross-type sensors in the middle, this AF module assures pinpoint focus on the subject at a minimum brightness level as low as -3 EV. It also assures outstanding AF tracking performance with subjects on the move.
In addition to the ordinary black, the camera also comes in two special-edition color models — crystal blue and crystal white — with a worldwide limited quantity of 700 units each.
Key specifications
Optical viewfinder with a nearly 100% field of view

Built-in Shake Reduction (SR) effect of 4.5 shutter steps

Vari-angled LCD monitor

Astrotracer function which simplifies advanced astronomical photography

WiFi connectivity

AA-filter-free optical design delivers super-high-resolution images

77-segment multi-pattern metering system

DR (Dust Removal) mechanism
Camera-Mount: Pentax-K
Sensor Size": APS-C
Color: black
Body / Kit: body
megapixels: 25.7
Viewfinder: yes
Battery Grips: yes
Type displey: Fully articulated
Wi-Fi: yes
Allweather protection: yes
Touch Screen: yes
Video: FHD
Built-in flash: yes
Dimensions cm ( L x W x H ): 125.5x93x74
Weight (gr.): 684
Warranty: 24
Card Type: SDXC
Video 4K: yes
Displey Size: 3