Ring light LED
»

Lensso

»

Lensso Ring light LED USB dimmable RL10 / 3200K-5500K / 10"

»

(new)
40W USB LED ring lamp with dimmer and color temperature adjustment for smartphone
Perfect as a selfie lamp, make-up, Instagram photos or recording YouTube videos, instastories or vlogs . Perfectly distributes light, giving even face illumination. The ring lamp is a real "must have".
The ring USB LED lamp is ideal for photography of small objects and macro photography . As one of the few, it is completely flicker-free - it does not mislead the white balance meter in the camera. The lamp ensures long - term trouble - free operation and excellent color reproduction .
Easy installation on a studio tripod with a standard 1/4 inch thread is possible thanks to the 3D ball head , ensuring comfortable work with the lamp. The internal reflective surface allows for high lighting efficiency , and the shape of the circle makes the photographed object evenly illuminated from all sides.
The diffuser for the ring lamp allows to obtain a light effect in the form of very soft and diffused light.
The built-in dimmer is extremely useful and allows you to smoothly adjust the light output.
The lamp has the ability to adjust the color temperature on the remote control:

warm, neutral, cold

. This gives an even greater field of possibilities when using the lamp.
In the inner part of the ring it is possible to mount a smartphone / iPhone holder.
The lamp is powered by USB, so we can use power from a computer, laptop or powerbank.
Attention! The phone is not included in the set!
Specification:
USB LED ring light,

power:

40W,

Ra: > 90,

perfect for selfie, makeup, YouTube videos, Instagram, vlogs,

adjustable color temperature: warm, neutral, cold (3200-5500K (± 200K)),

dimmer to adjust the lighting power,

remote control included

głowica enter,

phone holder,

lamp inner diameter:

20 cm,

mounting on a tripod with 1/4 inch thread,

USB powered,

input voltage: 5V, 8A,

weight: 0.5 kg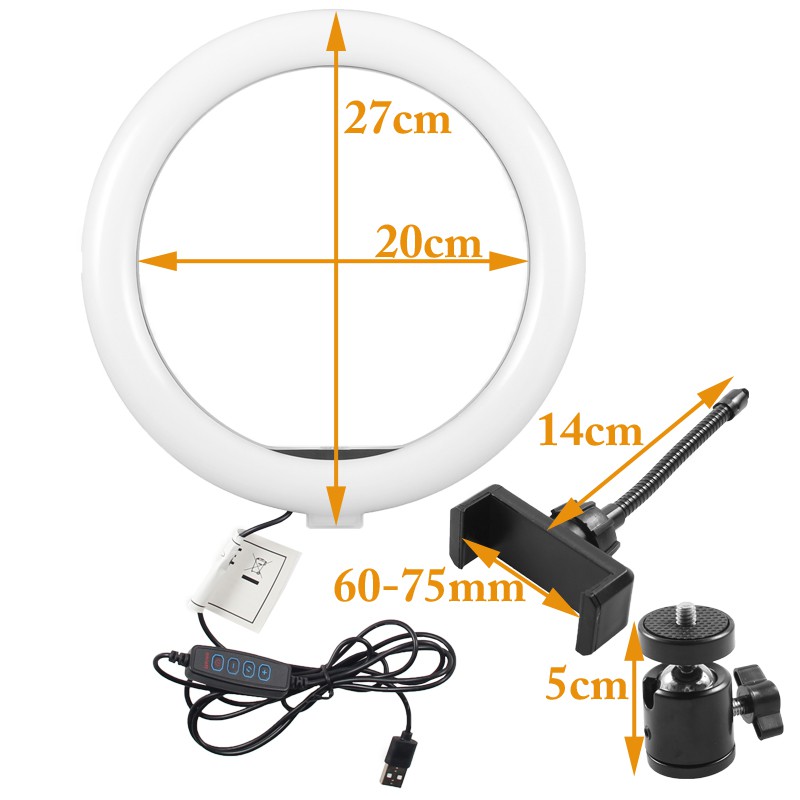 Световая температура: 3200K-5500K
LED освещение: yes
CRI: RA 90+
Размер см.: d 270mm
Вес ( гр. ): 500
Вспышка: yes
Мощность ( ватт ): 10
Bi-Color: yes
Кольцевые вспышки: yes
Диаметр кольцевых вспышек: 10"
для смарфонов: yes