Video kamera
»

Panasonic

»

PANASONIC HC-VXF1

»

(new)
The Panasonic VXF1 camcorder will delight the 4K video enthusiast in the family with cinema-like recording experience. These semi-professional features include an electronic eye viewfinder and quick access buttons to Variable White Balance, Focus Expand and Peeking and Custom Autofocus, plus a manual lens mounted control ring.
Improved optical and sensor performance is backed up by a new LEICA DICOMAR 24X optical zoom lens (25-600mm) with a bright aperture range from F1.8 wide - 4.0 tele, and a large 1/2.5" BSI MOS Sensor for impressive capture even in low light.
To keep the image rock stable, three unique optical image stabilization technology work together; 5-Axis HYBRID O.I.S.+, Ball O.I.S., and Adaptive O.I.S. For a more natural look, the VXF1 has a new Active Contrast technology equalizes gradation, while the HDR Movie mode enables a wider dynamic range response.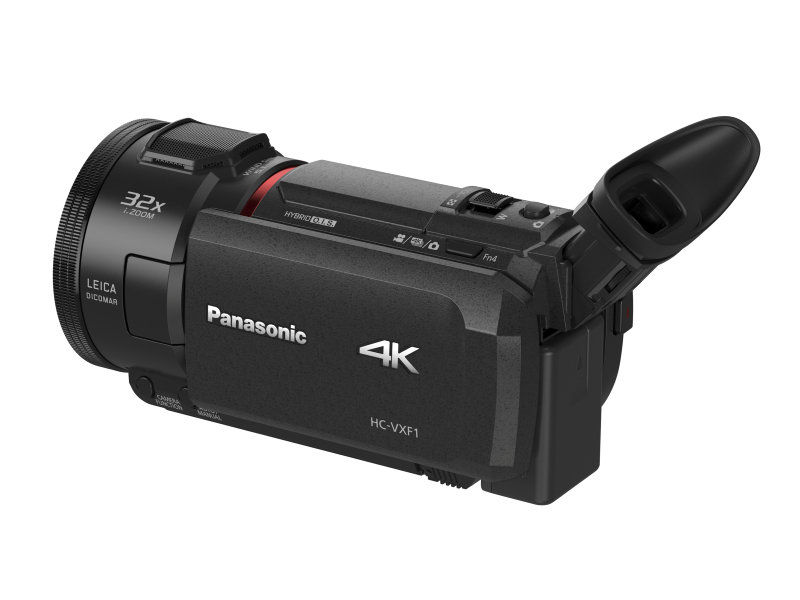 Brilliant 4K Image Quality
Capture excellent low-light performance with a large 1/2.5-inch sensor and bright F1.8 lens. The remarkable LEICA Dicomar lens produces the subtle nuances and shading that LEICA lenses are renowned for. These high-quality core technologies take 4K image production to the next level.

Wide 25mm* and Optical 24x Zoom Lens
The New 4K lens covers the range from 25mm wide-angle to 600mm tele with a 24x zoom achieved by a 4-Drive Lens System. The stunning wide-angle setting not only fits large groups of people and background images into narrow locations but is also convenient for taking selfies with a rotatable LCD.
* 35mm camera equivalent. Available with 4K and FHD/24p mode.


New Hybrid O.I.S.

Uses five-axis correction to thoroughly suppress blurring all the way from wide-angle to powerful zoom shots.
Automatically optimizes the O.I.S. effectiveness by adjusting the O.I.S. mechanical control to various shooting positions, conditions, and user characteristics.
Reduces wear on the drive section, and greatly improves correction for small-amplitude hand-shake.
Automatically detects and corrects the tilting of captured images.


Other features
Enjoy high-speed, excellent tracking performance and stability. With Custom AF, you can also choose from three focus modes.
Automatically equalizes the gradation in response to the brightness distribution within the image.
When shooting in 4K, your subjects stay framed, without blurring, because you can edit the images in the camera and save them in Full-HD.
Allows Dolly Zoom and other professional-like shooting techniques used in cinema films.
Specifications
Image sensor: 1/2,5 inch BSI sensor
Video resoltion: 4K (2840 x 2160 pixles) and Full HD (1920 x 1080 pixles)
Lens: Leica Dicomar, 25-600mm equiv. with f/1,8 (wide angle) to f/4 (tele photo)
Optical zoom: 24x
Image Stabilization: Yes, 5 axis Hybrid O.I.S. +
Screen: 3 inch rotatable touch screen with 460 000 pixles
Viewfinder: 0,24 inch electronic viewfinder with 1 555 000 pixles
Microphone: Built-in microphone with 5.1 surround sound plus external microphone input
Video Format: AVCHD Progressive, MP4
Memory Card: SD / SDHC / SDXC (not included)
Bulit-in Memory: No
WiFi: Yes
Other Features: Manual control ring, 4K Crop, 4K Photo, variable white balance, Focus Peaking, Dolly Zoom, HDR video
Dimensions: 68 x 75 x 169 mm
Weight: 460 grams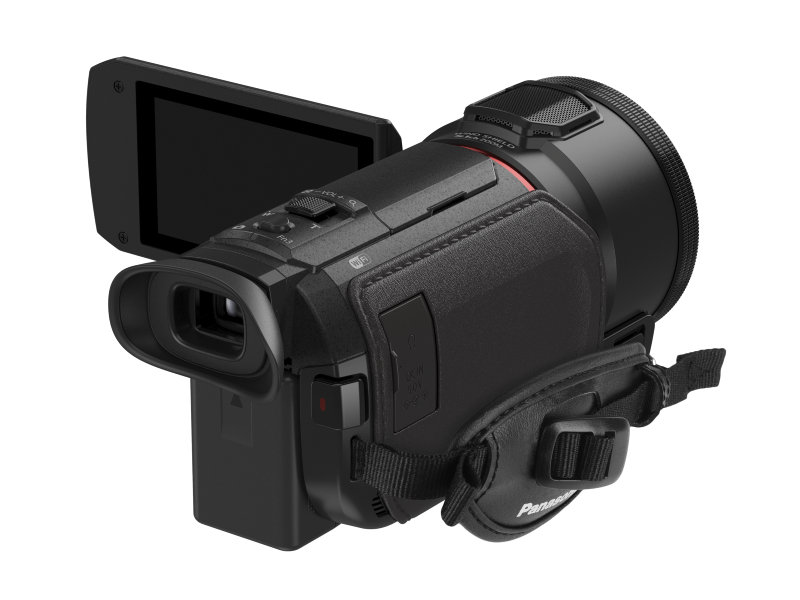 Sensora Izmērs ": 1/2,5"
Krāsa: black
viewfinder: yes
Displeja tips: Fully articulated
Attēla stabilizācija: yes
Wi-Fi: yes
Laikapstākļu aizsardzība: yes
Fokusa attālums: 25-600
Touch screen: yes
Video: FHD
Izmērs cm ( L x W x H ): 68 x 75 x 169 mm
Svars (gr.): 460
Garantija: 24
Kartes veids: SD
Video 4K: yes
Displeja izmērs: 3