LED apgaismojums
»

Weeylite

»

Weeylite RB08P RGB Pocket-Sized LED Light

»

(new)



The

Weeylite RB08P Mini RGB Portable LED Light

features 52 LEDs in a lightweight, compact form. Select from 360 colors in RGB mode or adjust the color temperature from 2500 to 8500K. The light is dimmable from 100% brightness to 10% in 1% increments. The fixture has a lightweight aluminum chassis and incorporates two 1/4"-20 threaded mounting holes, and it features one on/off and four control buttons on the side. The built-in OLED screen on the back displays the mode number and battery gauge, as well as associated info such as color temperature, RGB hue and saturation, or effect setting. There are several built-in color and light effects such as lightning, candlelight, or police/fire/ambulance emergency lights.


The light is powered by an integrated 3000mAh lithium-ion battery that can be charged to full in approximately three hours using the included micro-USB cable. On full brightness, the light lasts approximately 1.2 hours. The light can be mounted using its two 1/4"-20 mounting threads with a separately available mount, stand, or articulating arm.
On/Off and Control Buttons
The fixture has a power on/off button and four control buttons along the side—mode, select, plus, and minus
Lighting Modes
All modes allow you to adjust the brightness from 10 to 100% in 1% increments, except for mode 4:
Mode 1: Features six color temperature presets including 3200, 4000, 5200, 5500, 6000, and 7000K

Mode 2: Allows you to adjust the color temperature of the output from 2500 to 8500K in 100K increments

Mode 3: RGB with adjustments of hue from 0 to 360° and saturation from 0 to 100%

Mode 4: RGB self-matching color allows you to adjust red, blue, and green individually from 0 to 100% brightness

Mode 5: Cycles through the RGB color spectrum, and it has three settings for cycle speed

Mode 6: Lightning mode has three settings for flash speed

Mode 7: Warning flashes between red and blue emergency lights with three settings for speed of the flash

Mode 8: Scene presets featuring seven selections—Bar, Birthday, Fairy Tale, Grasslands, Sea Wave, Aurora, and Movies
Integrated 3000mAh battery with micro-USB charging port
The OLED display shows mode number, battery gauge, dimming level, and associated mode info
Aluminum body with two 1/4"-20 mounting threads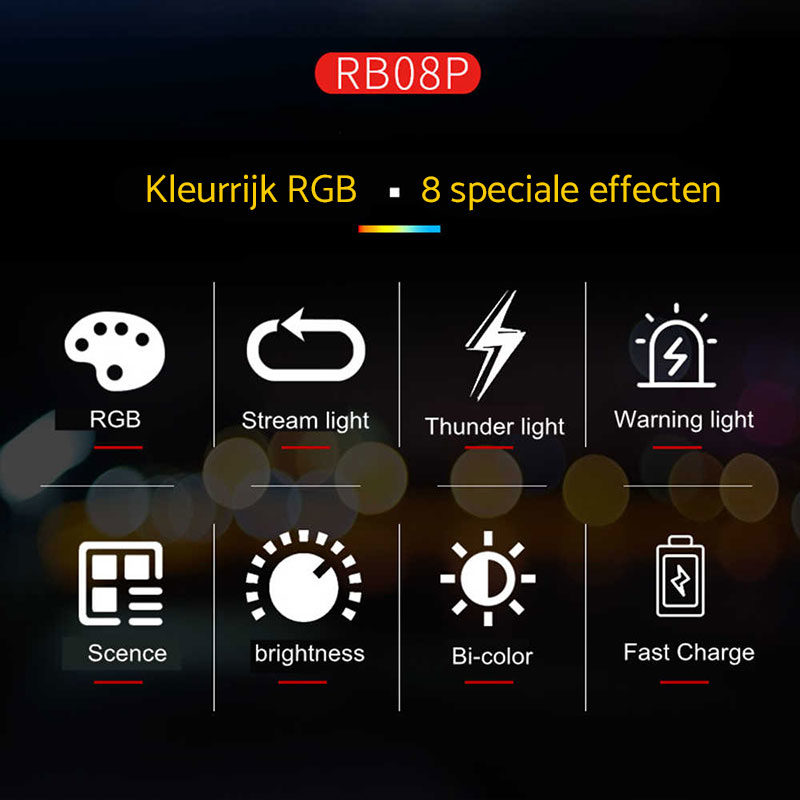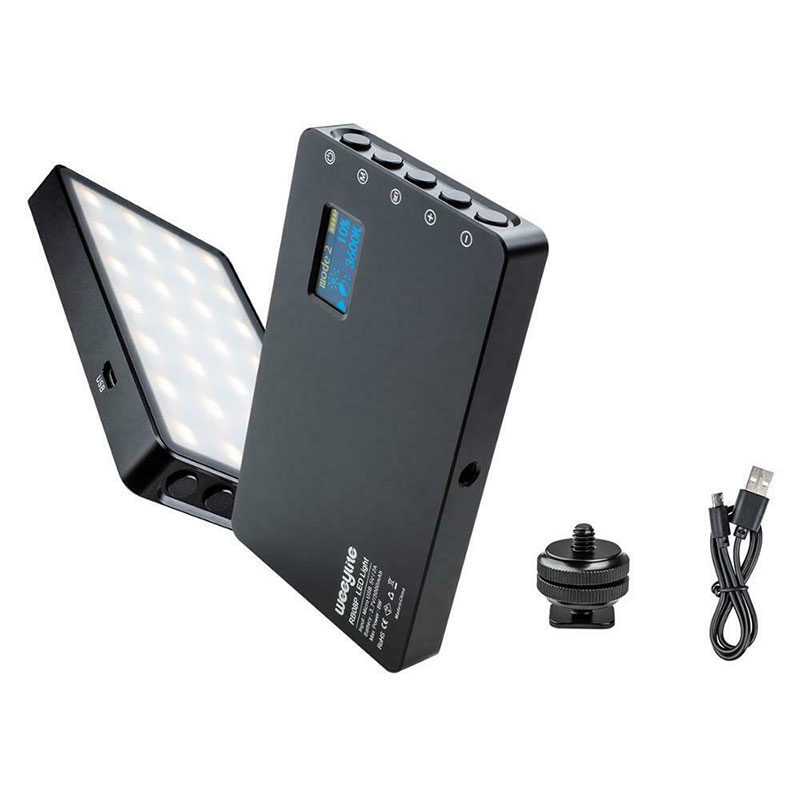 Gaismas temperatūra: 2500K-8500K
LED apgaismojums: yes
CRI: RA 95
Izmērs cm: 115 x 68 x 14 mm
Svars (gr.): 166
Zibspuldzes: yes
Light output ( lumens ): 630
Jauda ( vatu ): 8
CREATIVE: yes
Bi-Color: yes
Pārnēsājams: yes
Iebūvēts akumulators: yes
RGB: yes
Smart Camera Light: yes