Objektīvs
»

Thingyfy

»

Thingyfy Pinhole Pro PPS 37mm SONY A

»

(new)
The
pinhole pro 18-36x is an addition to the pre-existing Pinhole Pro (
multi-aperture prime lens) and the Pinhole PRO
S (single aperture pinhole lens; wide-angle) by the same company. It claims to enable its users to "See the Original World". To achieve this, they use a fundamental classic technique from your film history lessons about the
"camera obscura"
at film school. They then fuse it with modern technology and high-precision fabrication to depict the world uniquely, thereby potentially opening forgotten aesthetics and definitely a distinctive experience to their users. They claim that one cannot achieve this vibrant and striking pinhole cinematic look in any other digital way.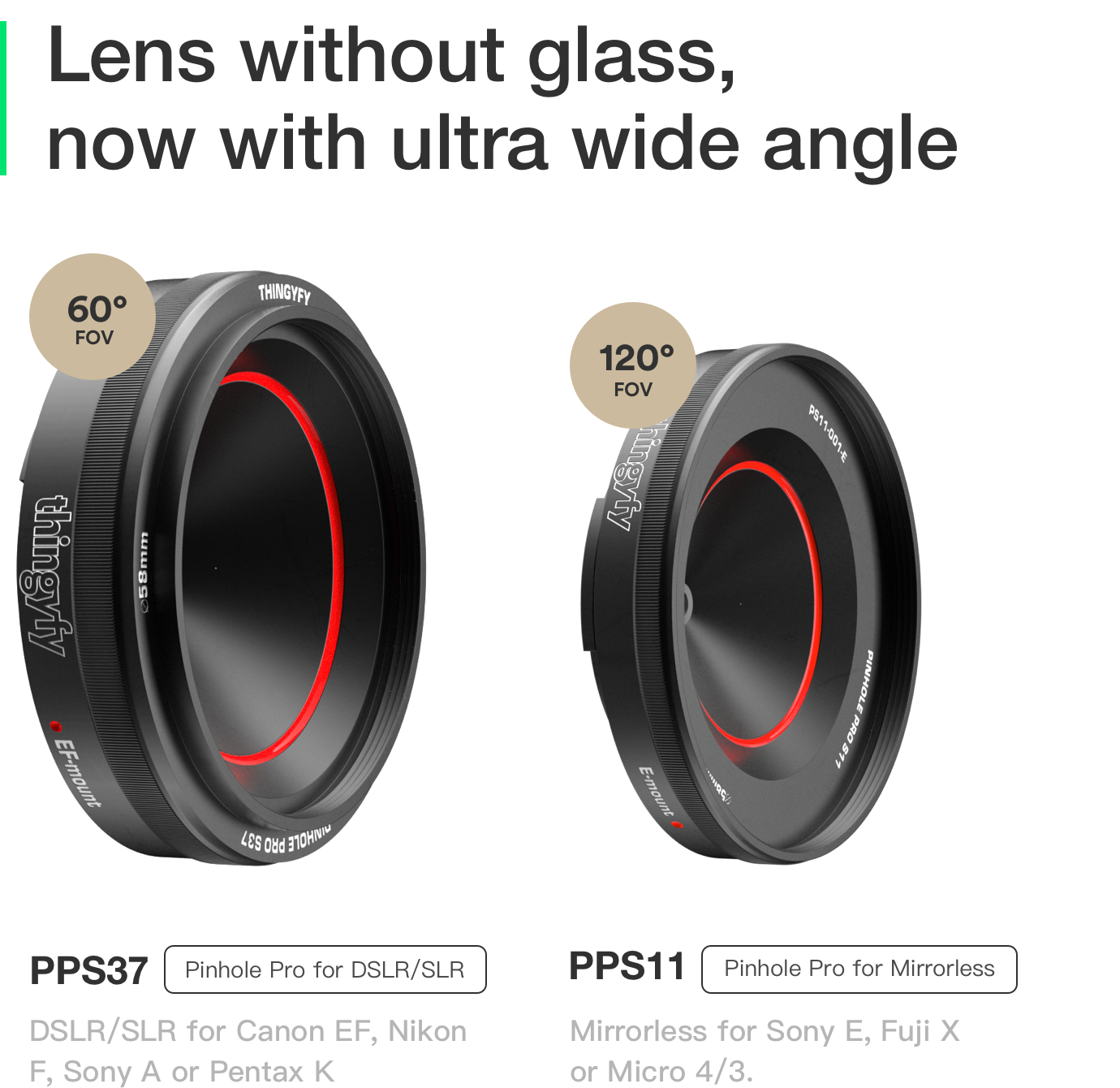 Now what you can get is pretty straight-forward: First and foremost the pinhole lens with 18-36mm focal length for EF, A, F, E, X or M43 mount, an aluminium lens cap and a carrying case of course. Since this is a Kickstarter campaign, they are also offering a lot of other rewards such as CPL, ND2 or UV filters, depending on how much you pledge.
The lens has a full aluminium body and is a precision-built 2x zoom lens. It is created with micrometre accuracy and made for enthusiasts who love to engage in a virtually forgotten art form. The company pairs this with modern technology and makes it useable with just about any relevant camera in the DSLR or mirrorless market. This usability also means that the user can leverage its advantages and style while including the use of high ISO and modern high-speed or other state-of-the-art technologies.
The technology used to manufacture the lens is called precision micro-drilling. This micro-drilling is an advanced technology over more crude techniques such as mechanical pin punching, chemical etching, and even laser etching. With this technique, the pinhole shape becomes round and smooth and can reach the smallest pinhole sizes from >= 0.05mm. The manufacturer claims that with this mechanical engineering, they ensure that the edges will be perfectly smooth while not having issues with burnt or corroded fuzzy edges, as with other techniques.
If you'd like to experiment and start in a new venture of creative expression, take a look at the campaign. You can get your rebated Pinhole X for DSLR/SLR with 40-60mm (EF, A, F, E, X or M43 mount) or for mirrorless with 18-36mm for the same price.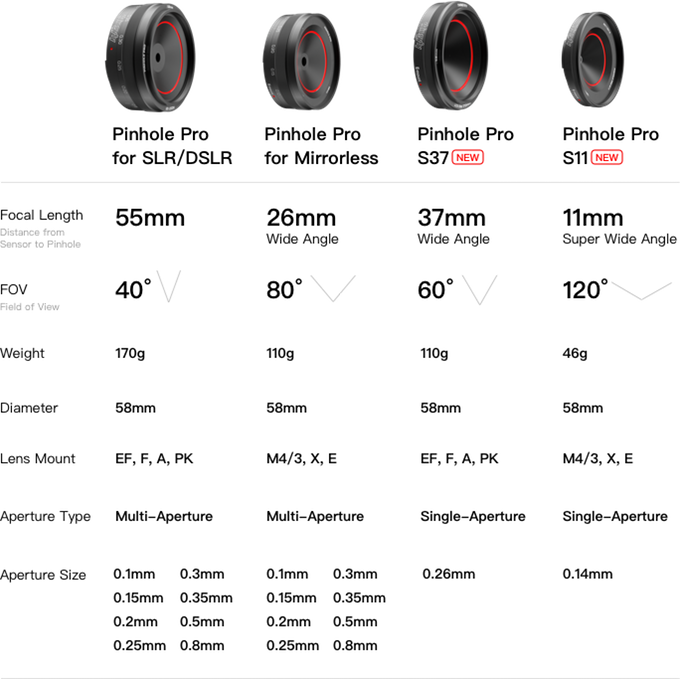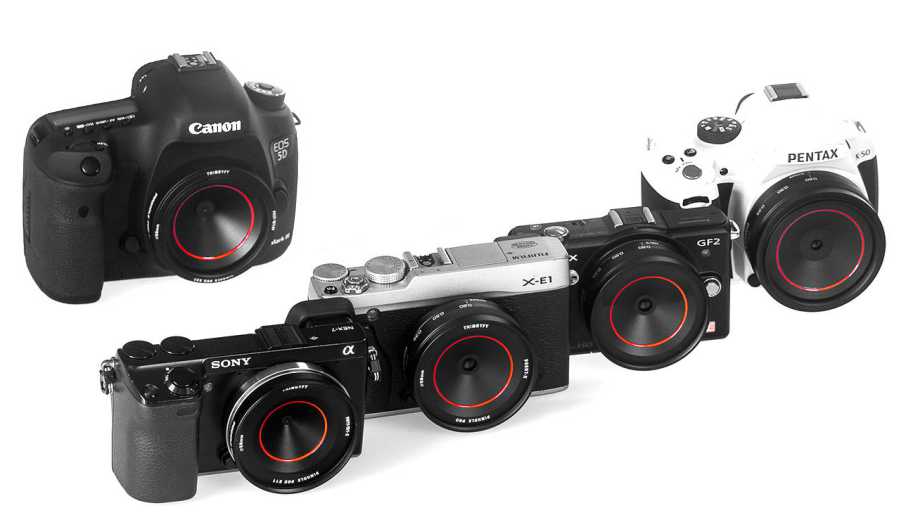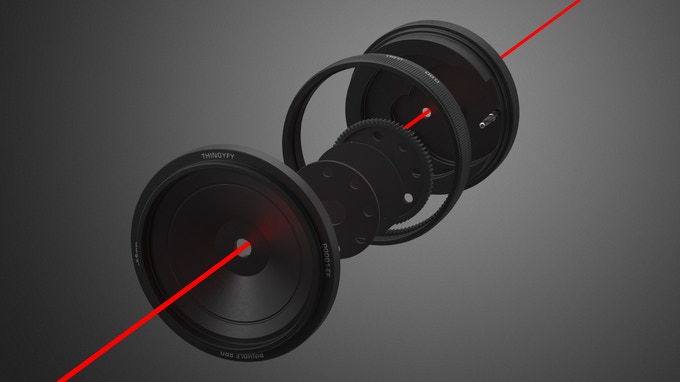 Montāžas tips: Sony-A
Sensora Izmērs ": APS-C
Krāsa: black
Filtra diametrs (mm): 58
Izmērs cm ( D x L ): 6,00 x
Svars (gr.): 110
Fokusa attālums (35mm ekv.): 37
Manuālais fokuss: yes
AF/MF tips: Only MF
Diafragmas gredzens: yes
Objektīva veids: pinhole
Skata leņķis: 60°
Priekš FF (Full frame): yes
Priekš APS-C: yes
Garantija: 24
Profesionāļiem: yes