objektīvs mirrorless kameras
»

Panasonic

»

Panasonic Leica DG Elmarit 200mm f/2.8 Power OIS + TC14 (1,4x)

»

(new)
Panasonic Leica Elmarit 200mm f/2.8 Power O.I.S.
Lightweight super-telephoto lens for the Micro Four Thirds system, with a focal length equivalent to 400mm for full frame. Comes in a bundle with the 1.4x teleconverter DMW-TC14 which turns the lens into a 280mm f/4 (or 560mm full frame equivalent).
A stepping motor provides fast and very quiet autofocus, an advantage in both still photograhy and video. The lens has a minimum focus of 1,15 m and is equipped with a focus range switch and a programmable AF button, useful when shooting moving subjects.
Image Stabilization (Power O.I.S.) makes it easier to get sharp images while shooting freehand. It can also be combined with the sensor-based stabilization in some of Panasonic's system cameras (Panasonics 5 Axis Dual I.S. 2) for even more efficient operation. A supplied rotating tripod collar can be used for low light photography that requires long shutter speeds.
The Panasonic Leica Elmarit 200mm f/2.8 Power O.I.S. has an advanced optical design consisting of 15 elements in 13 groups, where 2 lelements are made of UED glass which minimizes chromatic aberration.
A 2x teleconverter (DMW-TC20) is available as an accessory and provides a focal length of 400mm with brightness f / 5.6 (equivalent to 800mm for full-size).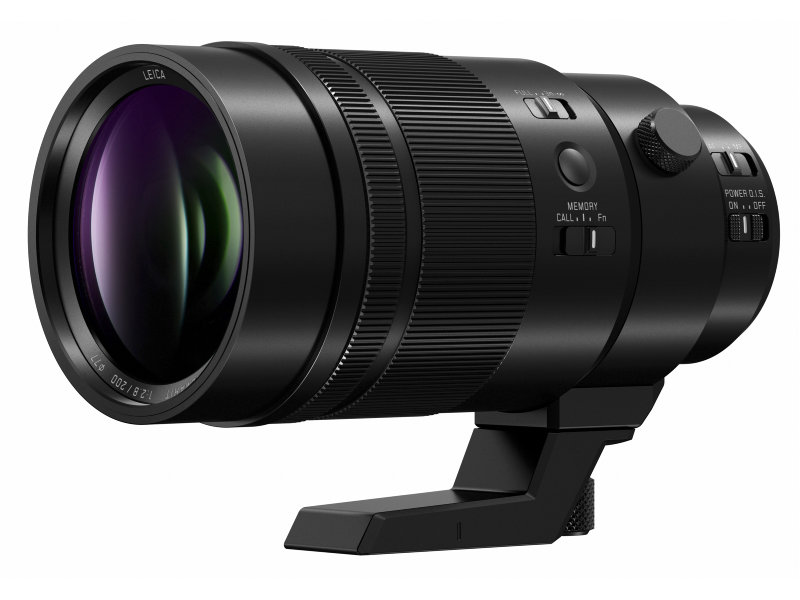 Features
200mm super telephoto lens with f/2.8
High image quality, "Leica-standard"
Optical image stabilizer, compatible with Panasonic 5 Axis Dual I.S. 2
Fast and silent autofocus suitable for video recording
Weather sealed lens barrel construction
Focus range switch and programmable focus button
Aperture ring
Rotating tripod collar
1.4x teleconverter DMW-TC14 included
Specifications
Focal Length: 200 mm
Maximum Aperture: f/2.8
Image Circle: Four Thirds (17,3 x 13 mm)
Lens Mount: Micro Four Thirds
Focusing: Autofocus
Image Stabilizer: Yes
Optical Construction: 15 elements / 13 groups
Minimum Aperture: 22
Minimum Focus: 1,15 m
Maximum Magnification: 0,2x (1:5)
Diaphragm Blades:9
Filter Size: 77 mm
Length: 174 mm
Diameter: 88 mm
Weight: 1245 grams
Included Accessories: Lens hood. Rotating tripod collar. Lens caps. Lens storage bag.
Other: Weather sealed. Focus range switch. Programmable focus button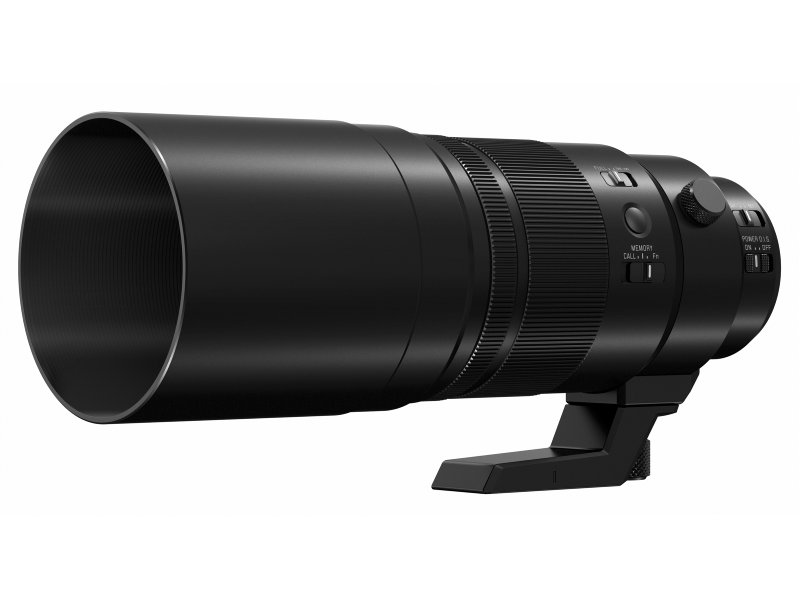 Montāžas tips: MFT ( micro 4/3 )
Sensora Izmērs ": 4/3"
Krāsa: black
Filtra diametrs (mm): 77
Izmērs cm ( D x L ): 8,75 x 19,42
Svars (gr.): 1365
Fokusa attālums (35mm ekv.): 280
Automātiskais fokuss: yes
Manuālais fokuss: yes
AF/MF slēdzis: yes
AF/MF tips: AF+MF
Attēla stabilizācija: yes
Attēla stabilizācijas slēdzis Iesl./Izsl.: yes
Saderīgs ar konvertoru: yes
Diafragmas gredzens: yes
Saules aizsargs: yes
Objektīva veids: fixed
Statīva stiprinājums: yes
Elementi/Grupas: 15/13
Diafragmas lapiņas: 9
Ūdensnecaurlaidība: yes
Laikapstākļu aizsardzība: yes
Garantija: 24