Hibrīdkameras objektīvs
»

ZEISS

»

ZEISS BATIS 135MM F2,8 for Sony-E

»

(new)
The medium telephoto lens for a new era
Thanks to the outstanding correction of all chromatic aberrations, the ZEISS Batis 2.8/135 is a high-performance Apo telephoto lens.
As a fixed focal length in the medium telephoto range, it is much easier to handle than corresponding zoom lenses.
The lens brings the distance closer and is therefore the optimum solution for medium-distance portrait photography.
Like all ZEISS Batis lenses, this latest addition features an OLED display that enables precise visualization of the depth of field. So you can be sure that the image is in focus in all the right places. The metal housing gives the lens its robust and durable character. ZEISS assures us that its dust and dirt shield means photo shoots in poor weather are a walk in the park.
Fast autofocus and handy focusing ring for ultra-precise manual focusing.
Distance and depth-of-field indicators with OLED display
Fully compatible with mirrorless full-frame system cameras from Sony
Focal length: 135 mm
Aperture range: f/2.8 – f/22
Elements/groups 14 / 11
Focusing range: 0.87m – ∞
Field angle* (diag./hor. / vert.) 18° / 15° / 10°
Coverage** 125 × 185mm
Lenght (without lens caps): 120mm
Max diameter (without lensshade): 81mm
Weight: 614g
Filter thread: 67mm
Compatible with: Sony E mount cameras***
Design: Apo Sonnar, with 14 lenselements in 11 groups
"Floating elements" design
Lens made of special glass
* Based on 24 × 36 mm format.
**At close range.
***Sony is a registered trademark of Sony Corporation.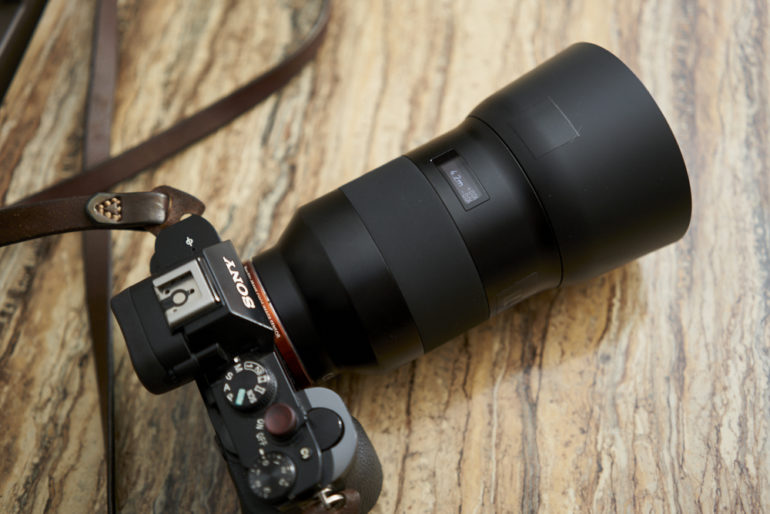 Montāžas tips: Sony-E
Sensora Izmērs ": FF (Full frame)
Krāsa: Black
Filtra diametrs (mm): 67
Izmērs cm ( D x L ): 8,10 x 12,00
Svars (gr.): 614
Minimālais Fokusa attālums (m): 0.87
Fokusa attālums (35mm ekv.): 135
Automātiskais fokuss: yes
Manuālais fokuss: yes
AF/MF tips: AF+MF
Attēla stabilizācija: yes
Saules aizsargs: yes
Objektīva veids: fixed
Elementi/Grupas: 14/11
Skata leņķis: 18
Ūdensnecaurlaidība: yes
Laikapstākļu aizsardzība: yes
Priekš FF (Full frame): yes
Priekš APS-C: yes
Garantija: 24