Kaste atmiņas kartēm
»

DELKIN

»

DELKIN WEATHER RESISTANT CASE FOR 8 SD MEMORY CARDS

»

(new)
Weatherproof Protection for SD Cards

The Delkin Devices Weather Resistant SD Memory Card Case provides a safe, organized way to store and transport your Secure Digital (SD) cards, without taking up space. It's compact, rugged and can hold up to 8 cards in numbered slots for convenient organization.
The case is manufactured to withstand even the most extreme shooting environments, with a weather resistant, shock and crush proof exterior that provides complete protection for your most valued files. The inner lining is custom molded and keeps your cards in a secure, glove-like fit to prevent them from getting loose and rattling around.
Bring the Delkin SD Memory Card Case with you wherever you go and get easy access to your cards.
Features
Securely holds up to 8 Secure Digital (SD) memory cards
Weather resistant to protect from moisture
Ruggedized, crushproof outer case
Compact & travel-friendly
Made from recycled plastic
Made in the USA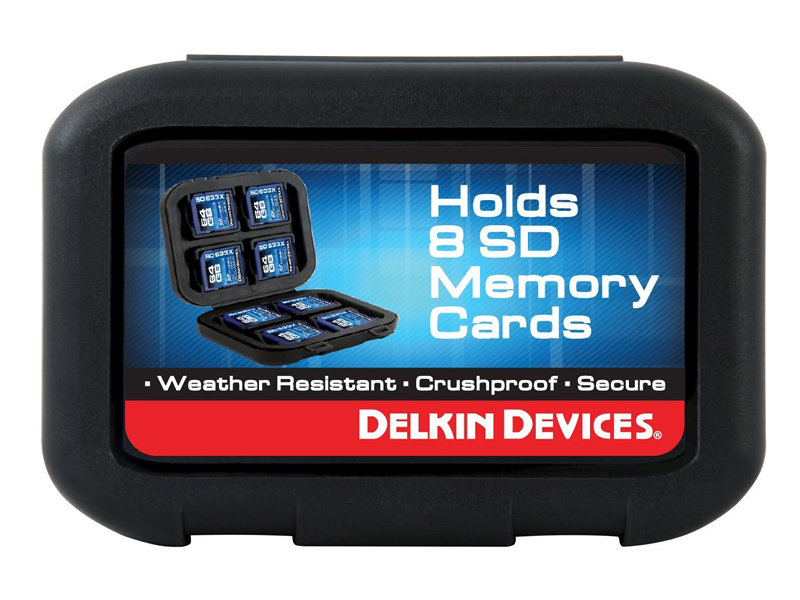 Kartes tips: SD
Profesionāļiem: yes
Ražotājs: DELKIN
Kaste atmiņas kartēm: yes
Garantija: 24
Ūdensnecaurlaidība: yes