Camcorders
»

Panasonic

»

PANASONIC HC-MDH3E

»

(new)
HC-MDH3 - Professional Shoulder-Mount Camcorder with Superb Low-Light Characteristics
The HC-MDH3 records Full HD video with amazing result even in low-light, thanks to a large BSI MOS sensor, built-in LED light and stability from the shoulder mount.
Professional features such as dual SD card slots, tiltable electronic viewfinder and wide-diameter multi-function control ring extends its use for shooting events and weddings.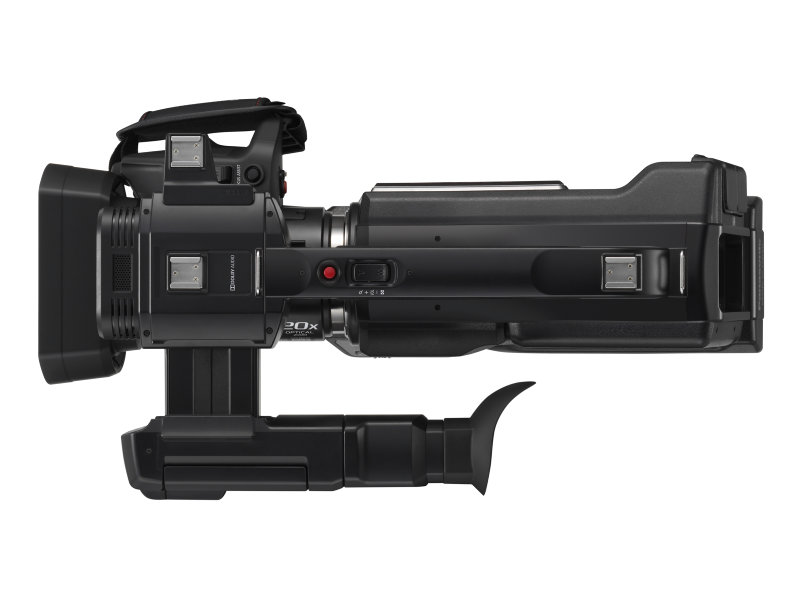 1/3.1-inch BSI Sensor and Crystal Engine processor
Now you can get bright, beautiful Full HD shots even in dark places! The highly sensitive BSI MOS sensor in the HC-MDH3 has a larger effective area than its predessor the HC-MDH2.
To help the new camera maximize its image quality a new powerful image processor, Crystal Engine, increases processing speed about 1.5 times and provides improved noise reduction for crisp, vibrantly colorful recordings.

Optical 20x Zoom and 29.5mm Wide-Angle
The Panasonic HC-MDH3 has a powerful 20x super-high-resolution zoom, equivalent to 29.5-612 mm*, for shooting scenes that you can't get close to. A large f/1.8 aperture allows you to get bright shots in low-light conditions.
The 29.5mm wide-angle* fits more people and more of the background into the frame. This is especially handy when you want to take a group photo in a small room.
* 35mm camera equivalent

5-Axis Hybrid O.I.S. + and Level Shot
Hybrid O.I.S. + uses five-axis correction to thoroughly suppress blurring all the way from wide-angle to powerful zoom shots. It also achieves superb effects when shooting while walking. The Level Shot function automatically detects and corrects the tilting of captured images.

3-inch LCD Monitor and EVF
The versatile LCD serves as a high-definition, 460K-dot monitor and menu-setting touch panel. It also rotates 270 degrees vertically for easy high-angle, low-angle and self-interview shooting. A tiltable 0.24 inch color viewfinder is also available for added convenience.

Built-in LED video light
Provides reliable shooting in nighttime scenes and dark places. The LED has a colour temperature of approximately 5000 K to give natural colour rendition. A diffusion filter can be used to soften the light.

Intelligent AF
With Intelligent AF the HC-MDH3E offers higher AF performance than the MDH2. When a subject suddenly enters the frame, it is instantly focused. Even when there are some obstacles passing through, the subject stays sharp. It is also capable of tracking a moving subject.

Picture Tone
Two picture tone patterns are easily selected - Standard and Sharp. In the latter, image parameters Gamma, Color Matrix and Sharpness are set to provide images with higher contrast and clarity and more colour saturation.

Double SD card slots
The ability to record onto two cards simultanously means the user doesn't have to worry about losing the data. An extra assurance at important events and weddings and a safeguard against media crashes.
The double card slots can also be used for Relay Recording. When the first card reaches full capacity, the system automatically and seamlessly switches to the second card. Another important feature is Hot Swap, meaning that fully recorded cards can be sequentially exchanged with blank cards for endless recording.

Illuminating LED Ring
An illuminating LED ring at the base of the lens allows people to verify more easily that recording is in progress, making the shooting smoother. The user can choose to turn the illumination on or off.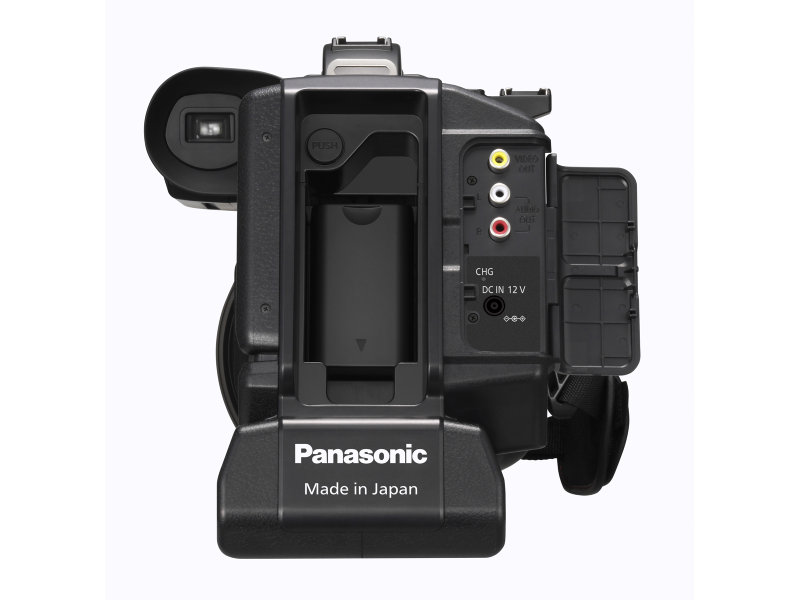 Summary of features
Highly sensitive 1/3.1 inch BSI MOS sensor
20x zoom lens, equivalent to 29.5-612 mm, with large f/1.8 aperture
Optical image stabilizer: 5-Axis Hybrid O.I.S. + with Level Shot function
Built-in LED light with foldable diffusion filter
Double SD card slots with Simultaneous, Relay Recording and Hot Swap
0.24" tiltable EVF (Electronic viewfinder) with 1555K dots
3.0 inch rotating touch sensitive LCD with 460K dots
Intelligent AF locks onto and tracks a subject even if it moves
Two Picture Tone modes
Shoulder mounted construction
Specifications
Image sensor: 1/3.1 tums BSI MOS sensor
Video resolution: Full HD (1920 x 1080 pixels)
Lens: 29.5-612 mm equivalent with f/1.8
Optical zoom: 20x
Image Stabilization: Yes, 5 axis Hybrid O.I.S. + and Level Shot
Screen: 3 inch rotating touch screen with 460 800 dots
Viewfinder: 0,24 inch tiltable electronic viewfinder with 1 555 000 dots
Microphone: Stereo microphone and 3.5 mm external microphone input
Video Format: AVCHD Progressive, MOV / MP4
Memory Card: Double SDHC / SDXC card slots (cards not included)
Bulit-in Memory: No
WiFi: No
Interface: Headphone output (3.5 mm). HDMI Type A, USB. 2.0, AV out, wired remote (2.5 and 3.5 mm)
Other Features: Multi-function control ring. Variable white balance (2000K - 15 000 K). Built-in LED light. Focus peaking, histogram and zebra pattern
Battery: Rechargeable lithium ion battery, 2900 mAh. AC adaptor included
Dimensions: 205 x 217 x 494 mm
Weight: 2330 grams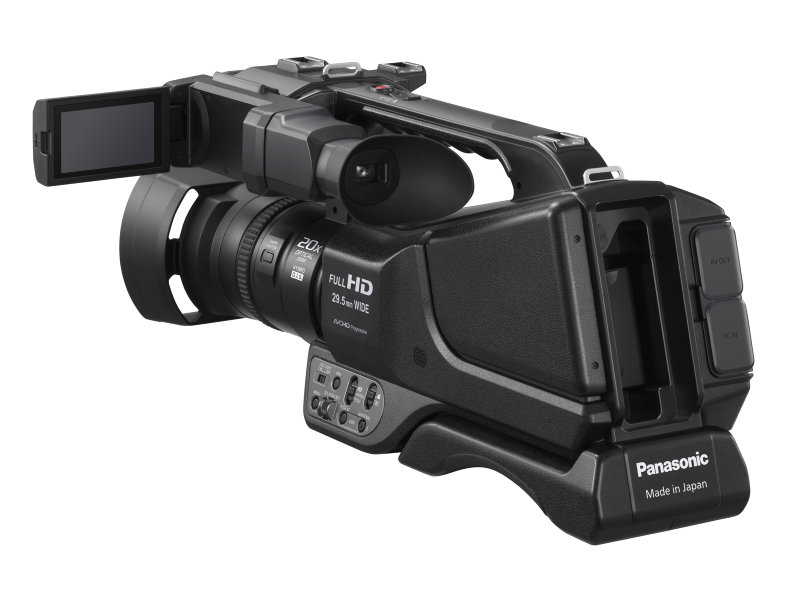 Sensor Size": 1/3,1"
Color: black
Viewfinder: yes
Type displey: Fully articulated
Image Sstabilization: yes
Allweather protection: yes
Focal Length (mm.): 29.5-612
Touch Screen: yes
Video: FHD
Built-in flash: yes
Dimensions cm ( L x W x H ): 205 x 217 x 494 mm
Weight (gr.): 2330
Warranty: 24
Card Type: SD
Displey Size: 3